Almost a year ago, the German top court found that ECB's OMT is "illegal", then promptly washed its hands of the final decision, and kicking the ball in the court of the European Court of Justice. Moments ago, the Advocate General Pedro Cruz Villalon of the EU Court of Justice in Luxembourg delivered the non-binding opinion on issue of Mario Draghi's "unconditional" OMT. Here are the details from Reuters and Bloomberg:
EU COURT ADVISER SAYS OMT PROGRAMME IN LINE WITH EU LAW SO LONG AS CERTAIN CONDITIONS MET
EU COURT ADVISER SAYS OMT LEGITIMATE SO LONG AS THERE IS NO DIRECT INVOLVEMENT IN FINANCIAL ASSISTANCE PROGRAMME THAT APPLIES TO STATE IN QUESTION
EU COURT ADVISER SAYS ECB MUST OUTLINE REASONS FOR ADOPTING UNCONVENTIONAL MEASURES SUCH AS OMT PROGRAMME
EU COURT ADVISER SAYS IF OMT PUT INTO PRACTICE, IMPLEMENTATION MUST SATISFY NEED FOR CLEAR AND PRECISE DESCRIPTION OF EXTRAORDINARY CIRCUMSTANCES THAT REQUIRE IT
EU COURT ADVISER SAYS OMT PROGRAMME IS NECESSARY AND PROPORTIONATE AS ECB DOES NOT TAKE ON RISK MAKING IT VULNERABLE TO INSOLVENCY
Wait, the ECB does not "take on risk" - has this guy missed the whole part about how the ECB became one of the world's biggest hedge funds in recent years with its record direct and indirect holdings of European peripheral bonds?
The punchline:
THE ECB MUST REFRAIN FROM INFLUENCING CONDITIONALITY IN OMT
In other words, Draghi's "unconditional" bazooka just became conditional, but it is still a bazooka, albeit one that will never actually be used since well over two years after it was revealed following Draghi's famous "whatever it takes" speech, it still has no legal termsheet or basis, and no definition on its pari passu or burden-sharing status. And it never will: after all it was merely meant as a precautionary device designed to scare away the bond vigilantes, and never to be actually implemented.
So what does this mean, and how will Germany react? Here is a useful primer from SocGen which we posted several days ago explaining the next steps,and whose outcome we now know: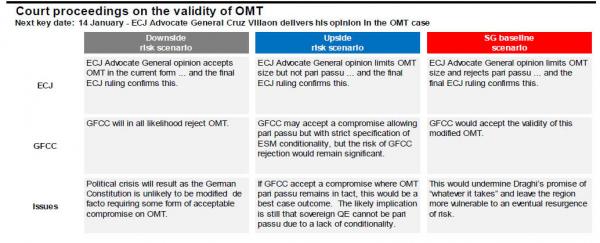 Where are we now? It appears the answer is the red "baseline" scenario, which as SocGen noted "would undermine Draghi's promise of "whatever it takes" and leave the region more vulnerable to an eventual ressurgence of risk."