Election fever and its aftermath has been rising and pulling the stock market along with it. The last five days have seen the Nasdaq, Dow Jones and S&P 500 dipping and then rising to varying degrees. The Dow jumped 4.9%, but the S&P 500 and Nasdaq also moved up 3.8% and 3.0%, respectively.
Technology bellwethers that thrive on international trade and depend on a diverse talent pool have seen their shares plummeting, but the excitement is likely to be short-lived as investors come to realize that the President-elect's investment portfolio includes Apple (AAPL), Microsoft, General Electric, Alphabet, Gilead and J&J among others. Renewed faith in the big companies will be good for the sector as a whole, but by then we might miss a bargain.
So here is a list of tech companies that are worth investing in right now:
Digitalglobe Inc. (DGI)
DigitalGlobe is a global provider of commercial high-resolution earth imagery products and services. Last month, it entered into a definitive agreement to acquire the Radiant Group, which offers similar solutions on geospatial technology, big data analytics and intelligence analysis to the federal government. Radiant counts the National Reconnaissance Office, National Geospatial-Intelligence Agency, Defense Intelligence Agency, Special Operations Command and other government agencies as important customers.
DigitalGlobe conducts its business through two segments: Defense and Intelligence, and Commercial, so the Radiant acquisition should strengthen the Defense business. With President-elect Trump likely to increase intelligence spending, this stock should be a net beneficiary.
This Zacks Rank #1 stock is up 13.34% in the last five days. But it's likely to head higher given the estimated long-term growth rate of 10.67%, which is more than double the estimated industry average of 5.2%. It also has a good track record, having topped the Zacks Consensus Estimate by 384.7% in the last four quarters.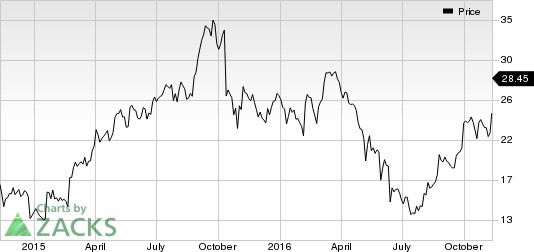 MKS Instruments Inc (MKSI)
MKS Instruments makes gas metrology solutions used in semiconductor manufacturing operations. It also makes semiconductors, optical filters and fiber optics cables, magnetic and optical storage devices and media, solar panels...
More