For Jim Cramer, Friday's unexpectedly strong jobs report numbers validated the strength of the high-flying stock market.
"Employment growth means money to buy a car or to buy a house, hence why the housing stocks roared today [to] new highs. Do I really need to explain how hiring helps the banks and techs and the industrials?" the "Mad Money" host said. "It also shows us which industries have the best growth. ... Right now it's health care, and that's a signal that these stocks, which have held up incredibly well, can keep rising."
ADVERTISING
Certainly, employment growth is not the only number investors should watch when it comes to predicting the market's next move.
"Of course, as important as the non-farm payroll report is, at the end of the day, what really matters for individual stocks are the earnings, and we kick off a brand new earnings season on Tuesday," Cramer said.
With that in mind, here are the stocks and events on Cramer's radar next week: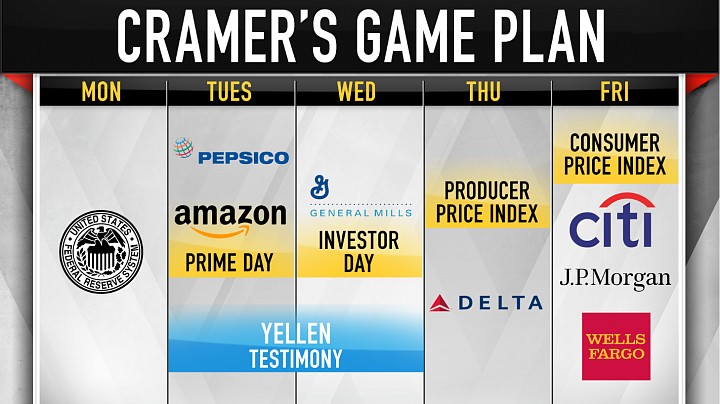 John Williams, the president and CEO of the San Francisco Federal Reserve, will speak on Monday, and Cramer is curious to see if Friday's strong employment number will be translated in to action.
More specifically, the "Mad Money" host wants to see if Williams, a non-voting Federal Open Market Committee member who previously talked about having three interest rate hikes this year, will change his view and advocate for four hikes.
"It's incredibly important because lately, this market's been led in part by the financials, and an important Fed head arguing for four hikes would be music to their ears, especially given that we are going to get a lot of bank earnings at the end of the week," Cramer said.
PepsiCo: This Cramer-fave consumer packaged good company will deliver the first major earnings report of the week.
The "Mad Money" host expects good numbers from the Indra Nooyi-run PepsiCo because it is well managed and deals in one of the strongest parts of the...
More