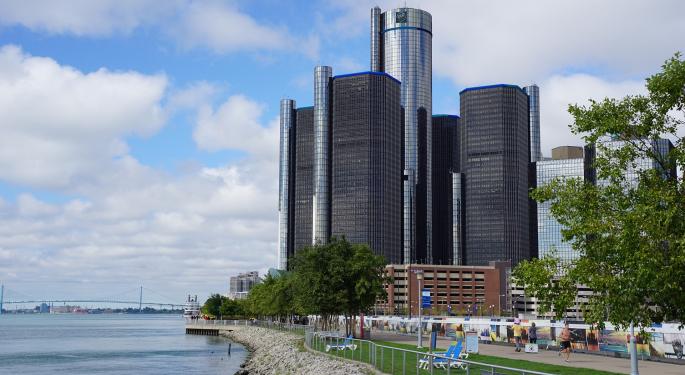 Upcoming earnings highlights include the latest results from two old-school giants striving to improve their prospects.
Wall Street analysts are looking for earnings growth from both one of them.
Both have topped earnings expectations in recent quarters.
The new earnings season is in full swing, and among the highlights this week will be results from venerable giants General Electric Company GE and General Motors Company GM, which each have made efforts in the past few years to become leaner and more disciplined to turn their fortunes around.
Wall Street analysts expect solid results from the energy and transportation conglomerate, judging by the consensus forecast. The numbers for the Detroit automaker are predicted to be solid as well, at least on the bottom line. While both companies have tended to handily exceed earnings expectations in recent quarters, the current estimates for GM have slipped a bit.
Below is a quick look at what analysts expect from these two reports, followed by a glance at some of the other most anticipated earnings reports due out the rest of this week.
General Electric
Wall Street's consensus forecast for this maker of everything from MRI systems to locomotives to wind turbines calls for earnings per share to have risen by almost a third from the same period of last year to $0.46. The consensus of 63 Estimizers concurs with the $0.46 estimate for the period that ended in June. That would be the highest second-quarter earnings in the past two years.
Estimize predicts that revenue for the quarter will total nearly $30.95 billion. Wall Street is more optimistic, with its consensus forecast set at $31.76 billion, which would be more than 8 percent higher than in the year-ago period. But revenue fell short of both forecasts back in the first quarter.
GE is scheduled to report before the opening bell on Friday.
General Motors
When this maker of Chevys, Cadillacs and other car brands shares its results early Thursday, the Wall Street forecast is that it will post EPS of $1.49 and $38.59 billion in revenue. That would be up from $1.29 per share and revenue of $38.18 billion year over year. That EPS estimate has slipped by a penny or so in the past 60 days, but it still would be one of the highest in the past eight quarters.
The consensus of 28 Estimize respondents pegs earnings at $1.49 per share as well, but on revenue of $39.01 billion for the three months that ended in June. Note that both Estimize and Wall Street underestimated top and bottom line results in the previous two periods.
And Others
Other companies that Wall Street analysts expect to show at least some earnings growth when they report this week include Abbot Labs, American Express, AT&T, Capital One, Honeywell, PayPal, SAP, Southwest Airlines, Starbucks and Whirlpool.
The consensus forecasts call for EPS at eBay to be the same as in the year-ago period, as well as per-share earnings at American Airlines, Intel, Microsoft, Morgan Stanley, Qualcomm, Travelers, Union Pacific, United Continental and Visa to be smaller than a year ago. A net loss is in the cards for Halliburton, if the analysts are correct.
At the time of this writing, the author had no position in the mentioned equities.
Keep up with all the latest breaking news and trading ideas by following
https://twitter.com/Benzinga
on Twitter.
© 2016 Benzinga.com. Benzinga does not provide investment advice. All rights reserved.