Apple (AAPL) just released its third-quarter 2017 financial results, posting earnings of $1.67 per share and revenues of $45.4 billion. Currently, AAPL is a Zacks Rank #3 (Hold) and is up 5.5% to $158.30 per share in trading shortly after its earnings report was released.
Apple:
Beat earnings estimates. The company posted earnings of $1.67 per share, beating the Zacks Consensus Estimate of $1.57.
Beat revenue estimates. The company saw revenue figures of $45.408 billion, beating our consensus estimate $44.710 billion.
iPhone unit sales totaled 41.03 million, up 2% year-over-year and down 19% sequentially. Revenues from the iPhone division were $24.85 billion, up about 3% from the prior-year quarter.
Revenue in the company's Services unit—which includes AppleCare, Apple Pay, and Apple Music—reached $7.3 billion, a quarterly record and up 22% from the year-ago quarter.
For its fiscal fourth quarter, Apple expects revenue between $49 billion and $52 billion. This is slightly higher than our current consensus estimate, which calls for revenues to touch $49.15 billion.
"With revenue up 7 percent year-over-year, we're happy to report our third consecutive quarter of accelerating growth and an all-time quarterly record for Services revenue," said CEO Tim Cook. "We hosted an incredibly successful Worldwide Developers Conference in June, and we're very excited about the advances in iOS, macOS, watchOS and tvOS coming this fall."
Here's a graph that looks at Apple's recent earnings performance history:
Apple Inc. Price, Consensus and EPS Surprise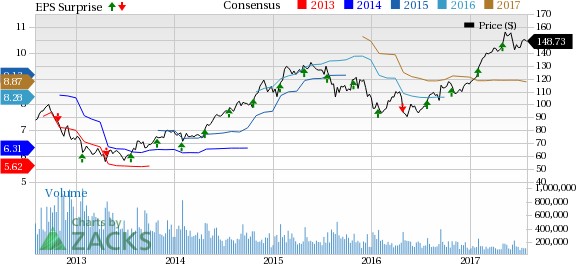 Apple Inc. Price, Consensus and EPS Surprise | Apple Inc. Quote
Apple Inc. is engaged in designing, manufacturing and marketing mobile communication and media devices, personal computers, and portable digital music players. The Company's products and services include iPhone, iPad, Mac, iPod, Apple TV, a portfolio of consumer and professional software applications, the iOS and Mac OS X operating systems, iCloud, and a range of accessory, service and support offerings. It sells its products worldwide through its online stores, its retail stores, its direct sales force, third-party wholesalers, and resellers.
Check back later for our full analysis on Apple's latest report!
Want more stock market analysis from this author? Make sure to follow @
https://twitter.com/Ryan_McQueeney
on Twitter!
Will You Make a Fortune on the Shift to Electric Cars?
Here's another stock idea to consider. Much like petroleum 150 years ago, lithium power may soon shake the world, creating millionaires and reshaping geo-politics. Soon electric vehicles (EVs) may be cheaper than gas guzzlers. Some are already reaching 265 miles on a single charge.
With battery prices plummeting and charging stations set to multiply, one company stands out as the #1 stock to buy according to Zacks research. It's not the one you think. See This Ticker Free >>
Want the latest recommendations from Zacks Investment Research? Today, you can download 7 Best Stocks for the Next 30 Days.
Click to get this free report
Apple Inc. (AAPL): Free Stock Analysis Report
To read this article on Zacks.com click here.