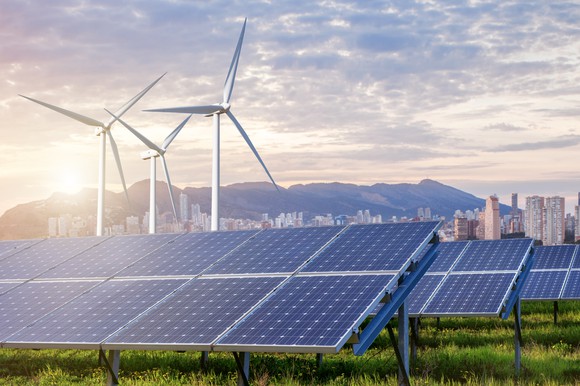 Solar stocks are getting pounded right now, driven by weaker-than-expected guidance from industry leaders First Solar (NASDAQ:FSLR) and SunPower (NASDAQ:SPWR). Canadian Solar (NASDAQ:CSIQ), which has built a business comprised of large projects after acquiring Recurrent Energy, has also been dragged down as a result. As three of the largest solar manufacturers and developers in the world, are they in trouble long term or is this the market being short-sighted?
What's going on in solar today
There are a three broad dynamics playing out in solar, particularly in the U.S., that are negatively affecting solar developers.
First, U.S. utilities don't need more solar today because they loaded up on solar ahead of the expected investment tax credit (ITC) reduction at the end of 2016. It takes anywhere from 6 months to 3 years to develop a utility scale solar plant, so with the expected reduction in the ITC coming this year utilities signed a lot of power purchase agreements (PPA) in 2015 and before. By the time the ITC was extended very late in 2015, it was too late to sign projects for 2016 and companies had plenty of solar to meet mandates for 2017 and even into 2018. So, there was no rush to sign more PPAs.
Of the 3,220 MW projects First Solar has under contract at the end of Q2 2016, just 303 MW have completion dates in 2017 and 40 MW in 2018. But First Solar has 810 MW contracted for 2019, mostly in the U.S. That's the abyss I'm talking about in U.S. solar demand. Long term, the industry is in good shape but it'll take getting through 2017 to get to a point of strong demand.
SunPower has 575 MW of projects due to be completed by the end of 2016 but just one 111 MW project in Chile due in 2017. Its recently announced 164 MW Chile project and 500 MW Mexico project start in 2018.
The falling demand for utility projects can be seen in GTM Research's installation projections below. You can see that U.S. utility projects will fall off dramatically in 2017.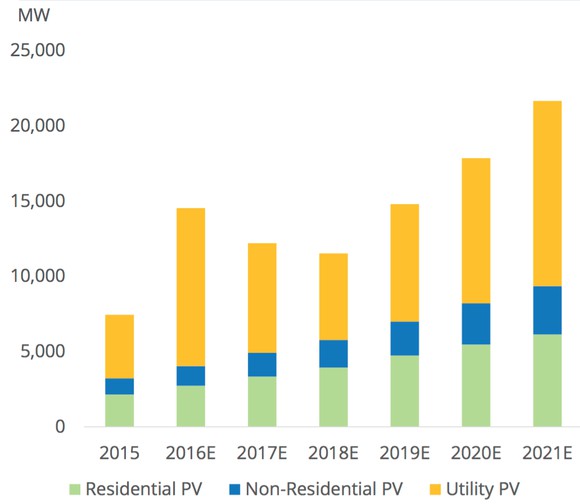 This dynamic of falling demand leads to the second problem for developers. Companies are getting desperate for new contracts. That, along with new independent power producers entering the global solar market, has reduced the cash flow solar companies can get from projects. This makes the economics more difficult, which I'll cover below.
The third problem is a lack of buyers for solar projects. And this is a multifaceted problem that may be...
More