Despite briefly dipping below its $52/share IPO price yesterday, moments ago Ferrari pleasantly surprised supercar fanatics when it reported record Q3 performance, highlighting that shipments were 1,949 units, up 21%, revenues were up 9% to €723 million, EBITDA of €214 million, up 34%, leaving to a 62% jump in net profit of €94 million.
One skim of the press release confirms that while the global middle class is slowly being gutted, the top of the wealth pyramid has never had it better: The increase in EBIT "was supported by a slightly positive mix effect due to higher sales of our limited edition supercar LaFerrari and special racing car FXX K."
At least the world's billionaires have good taste.
The tersely worded press release of the new public company also provided full year guidance that saw the business continuing to boom, expecting shipments: 7.7K including limited edition supercar LaFerrari, with Adjusted EBITDA on the €725 million – €745 million range.
Overall, a great quarter.
There was just one problem: Ferrari announced that while sales across the rest of the world were solid, rising by 114 and 159 units in Europe and America, to 815 and 682 units respectively, unexpectedly sales in China tumbled by 24% in the third quarter, or down 50 units Y/Y to 157.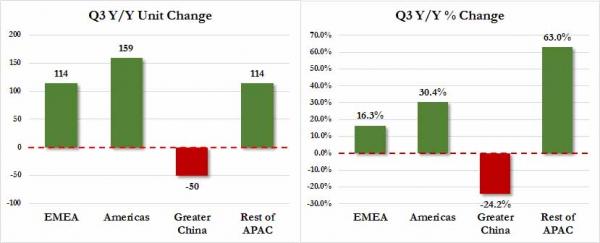 And while we have no reason to doubt Ferrari's optimistic outlook - after all, the only thing better for the world's richest than ZIRP is NIRP (coupled with a few more QE expansions here and there), China's unexplained tumble is very disturbing, and should lead to questions about just how strong even the wealthiest Chinese consumers truly are.