Monsanto Company MON has carved a name for itself in the global agricultural chemicals' industry. By conducting trade, the company tries to enhance the yield and quality of several commercial and non-commercial agricultural crops such as cotton, soybean and corn.

Over the last six months, MON's shares yielded a return of 10.87%, outperforming the gain of 7.54% recorded by the Zacks categorized Agriculture/Products industry.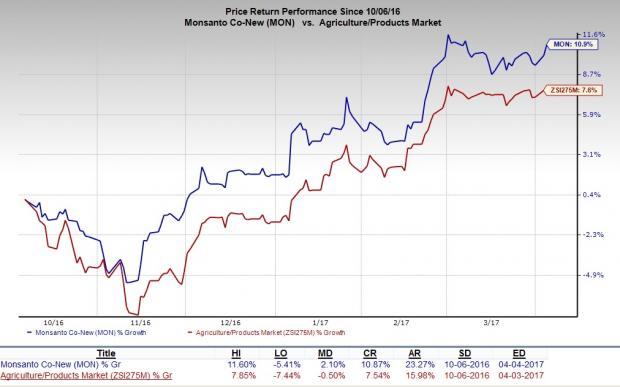 Currently, MON has a Zacks Rank #2 (Buy), but that could definitely change after the release of its upcoming earnings report. You can see the complete list of today's Zacks #1 Rank stocks here.

We have highlighted some of the key stats from this just-revealed announcement below:

Earnings: MON reported adjusted earnings of $3.19 per share in second-quarter fiscal 2017 (on an ongoing basis), above the Zacks Consensus Estimate of $2.76 per share.

Revenue: MON posted revenues of $5,074 million in second-quarter fiscal 2017, higher than the Zacks Consensus Estimate of $4,815 million.  

Key Factors: MON anticipates to report adjusted earnings at the high-end of the $4.50-$4.90 per share range for full-year fiscal 2017, on an ongoing basis.

MON aims to underpin its business on the back of improved core seeds and genomics business, strategic management of agricultural productivity segment's trade, meaningful restructuring and appropriate investments.

The company perceives to successfully close Bayer AG's BAYRY buyout deal by the end of calendar year 2017.   

Stock Price:  At the time of writing, the stock price of MON was up nearly 1.96% ($2.25) in the pre-market trade on Nasdaq. Clearly the initial reaction to the release is positive. We view the company's better-than-expected second-quarter fiscal 2017 results as the primary reason responsible for this positive sentiment.

Check back our full write up on this MON earnings report later!

Zacks' Best Private Investment Ideas

While we are happy to share many articles like this on the website, our best recommendations and most in-depth research are not available to the public.

Starting today, for the next month, you can follow all Zacks' private buys and sells in real time. Our experts cover all kinds of trades… from value to momentum . . . from stocks under $10 to ETF and option moves . . . from stocks that corporate insiders are buying up to companies that are about to report positive earnings surprises. You can even look inside exclusive portfolios that are normally closed to new investors. Click here for Zacks' private trades >>
 
Want the latest recommendations from Zacks Investment Research? Today, you can download 7 Best Stocks for the Next 30 Days.
Click to get this free report
Bayer AG (BAYRY): Free Stock Analysis Report
Monsanto Company (MON): Free Stock Analysis Report
To read this article on Zacks.com click here.
Zacks Investment Research