What do you see in the AUD/USD from a purely technical perspective?

1) The weekly chart shows a bearish market since Mar. 2013, when AUD/USD started to break below the 2011-2013 triangle.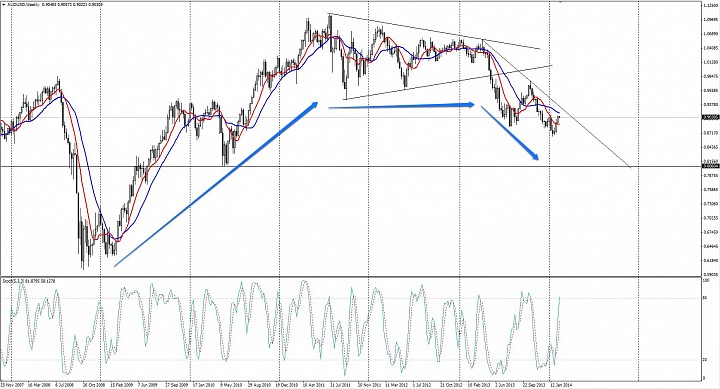 (click to enlarge: AUD/USD weekly chart)
2) AUD/USD appears to be trading more sideways since 2014, as the market is testing its 2014 highs. If it is in consolidation, there could be highs to sell from, and lows to buy from. 
Sell:
The 0.9085 level is the first resistance to consider selling from. 
Break higher:
If 0.91 breaks, we will have to respect the current rally, and wait for topping before considering selling.
Buy: 
If market returns to 0.8820-50 area, consider respecting the current rally at least with anticipation of a retest of 0.9050-0.9085 area.
Structure: Note that AUD/USD's rally since January has a bullish structure based on Elliott Wave Principle. Unlike the rally attempts within the Oct-Jan decline, this rally appears to be building high lows, without the overlap of lows on top previous highs.
So I am wondering how to approach this: 
1) Sideways-Bullish in the short-term but with consideration of the medium term decline. 
2) Focus on the bearish trend in the medium term, but look at the short-term neutral-bullish price action to set up a sell. 
The former suggests waiting for a dip to buy on, perhaps if price is in the 0.8820-0.8850 pivot area. 
The latter suggests a sell from 0.9050 toward at least 0.8850 is a viable short-term trade, with potential of extending by continuing the medium term trend.
What do you think?