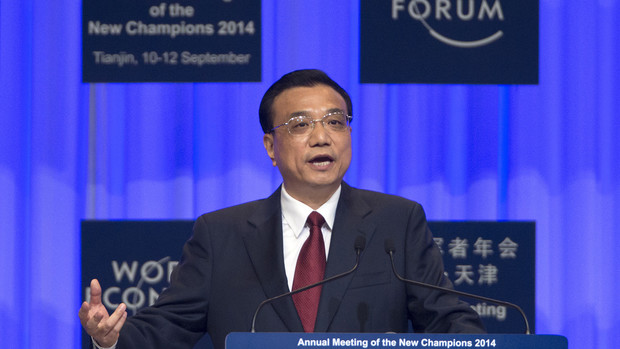 Photographer: Brent Lewin/Bloomberg
Li Keqiang, China's premier
Foreign direct investment into China, a gauge of external confidence, slumped to a four-year low amid antitrust probes into multinational companies that have spurred a letter of complaint from the U.S.
Inbound investment was $7.2 billion in August, down 14 percent from a year earlier, the Ministry of Commerce said today in Beijing after a 17 percent drop in July. It was the first back-to-back decline of more than 10 percent since 2009, based on previously reported data compiled by Bloomberg.
U.S. Treasury Secretary Jacob J. Lew said in a missive to Vice Premier Wang Yang that China is using competition law to force companies to cut prices its consumers pay for products relying on foreign intellectual property, according to a person with knowledge of the correspondence. Lew said such steps might have consequences for bilateral ties, according to the person, who asked not to be identified because the letter isn't public.
"I don't know where this is going in the future, but it will not go in a direction that's favorable for foreign investment," said Niu Jun, professor at Peking University's School of International Studies in Beijing. "The impact on Sino-U.S. relations will be significant. If this spreads into the economic realm, or a campaign like that seen against Japanese goods, it is hard to say what will happen."
The July and August declines in FDI have "no relation" to China's anti-monopoly measures, Shen Danyang, a Commerce Ministry spokesman, said at a briefing in Beijing today without elaborating, according to a transcript on the ministry's website.
Target Risk
Lew's complaint follows criticism from the main U.S. and European business lobbies in China that authorities in the world's second-biggest economy are discriminating against non-Chinese corporations. Dozens of foreign companies are being targeted in probes, with regulators opening an anti-monopoly investigation into Microsoft Corp. in July and state media accusing Apple Inc. of using its iPhone to steal state secrets.
With Chinese economic growth in danger of missing Premier Li Keqiang's target of about 7.5 percent this year, the regulatory flap and investment downturn pose an additional headwind. The FDI drop follows data released Sept. 13 that showed the weakest industrial-output expansion since the global financial crisis and moderating investment and retail sales growth.
China's one-year interest-rate swaps traded today near a two-month low, while the yuan was headed for the biggest three-day decline since June. The Shanghai Composite Index (SHCOMP)was up 0.1 percent at the 11:30 a.m. local-time break.
Financial Fragility
Economists at banks including Royal Bank of Scotland Group Plc cut their 2014 expansion forecasts after the weekend data and said they anticipate the government will step up the rollout of measures to support the economy.
China's use of economic-growth targets, along with incentives that encourage exceeding them, are weakening the nation's financial stability, Standard & Poor's said today.
Rising debt to support expansion "has moved China to a position where the fragility of its financial sector is seen as the biggest macro risk to the country, if not the global economy," Paul Gruenwald, S&P's chief Asia-Pacific economist, said in a statement tied to a report today.
American Chamber of Commerce in China members also cited concerns about China's long-term economic health and its reliance on investment and exports amid rising debt and lower consumption growth, Greg Gilligan, the group's chairman, said in a report this month. Sixty percent of respondents to a survey last month said they feel foreign business is less welcome in the country than before, the group said Sept. 2.
Attracting Investment
Chinese officials have sought to defend their actions, with a rare joint press briefing last week of the country's three antitrust regulators highlighting that only about 10 percent of anti-monopoly investigations have involved foreign businesses. In remarks to an audience including executives of overseas companies, Li last week pledged to improve conditions for attractive foreign investment.
China's anti-monopoly measures are transparent, fair and done in accordance with the law, Qin Gang, a Foreign Ministry spokesman, said at a briefing in Beijing on Sept. 2.
Volkswagen AG's Audi, Bayerische Motoren Werke AG, Daimler AG's Mercedes-Benz, Tata Motors Ltd.'s Jaguar Land Rover, Fiat SpA's Chrysler, Toyota Motor Corp. and Honda Motor Co. have all announced price cuts of vehicles or spare parts since July in the wake of probes.
General Motors Co. said last month that its joint venture with SAIC Motor Corp. has been responding to regulator requests since 2012.
Authorities raided the offices of software maker Microsoft in July, while Qualcomm Inc. and Mead Johnson Nutrition Co. have also fallen under anti-monopoly scrutiny in China.
In the first eight months of 2014, China's inbound FDI fell 1.8 percent from a year ago to $78.3 billion, the ministry said. By contrast, outbound investment by Chinese companies over that period has climbed 15.3 percent to $65.2 billion.
source