Leggett & Platt, Incorporated LEG has been going through a rough phase owing to volatility in raw material prices. However, its long-term strategic plan remains on track.

A glimpse of Leggett's share price movement reveals that it has fallen nearly 6% year to date, wider than the industry's decline of 1.6%. Let's delve deeper and find out what is troubling this Zacks Rank #3 (Hold) stock.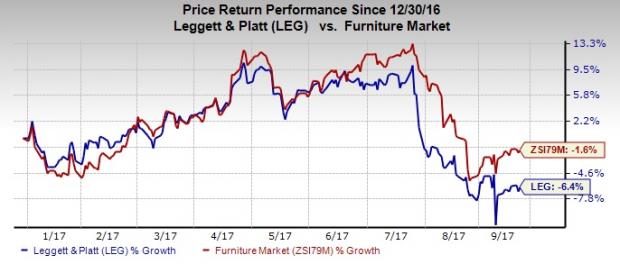 Why is the Stock Struggling?

Disappointing Performances & Bleak Outlook

Investors remain cautious about Leggett's top-line performance that has missed expectations in eight of the last nine quarters. It reported dismal top- and bottom-line results in second-quarter 2017 due to raw material price inflation, which more than offset benefits of higher sales and lower tax rate. Also, the inflationary pressure dented operating margins.

Consequently, management lowered its sales outlook for 2017 and narrowed its earnings per share guidance range. Sales for the year are now anticipated to grow by 4-7% to $3.9-$4.0 billion. Earlier, the company projected sales of $3.95-$4.05 billion that reflected 5-8% year-over-year growth. Also, it narrowed earnings to a band of $2.55-$2.65 per share from the previous range of $2.55-$2.75.

Given the aforementioned troubles, the company's earnings estimates have witnessed downward revisions in the last 30 days. The Zacks Consensus Estimate of $2.48 for 2017 and $2.74 for 2018 moved down 4.6% and 2.8%, respectively.

Other Headwinds

Leggett remains exposed to volatility in raw material prices as steel is one of the company's key raw materials and the steel market is cyclical in nature. Evidently, Leggett's bottom line and operating margins were hurt by steel price inflation in the second quarter. In fact, fluctuating steel prices impacted Leggett's performance throughout 2016. We expect the persistence of inflationary pressure to remain a threat to Leggett's earnings in 2017.

Apart from this, the company is susceptible to fluctuating metal margins as it is a manufacturer of steel rods. Alongside, intense competition from local as well as regional players and other macroeconomic factors remain threats to Leggett.

Strategic Long-Term Goals

Leggett's long-term strategic plan remains on track and it has already completed the first two parts of it successfully. While, the first part was to divest low-performing businesses, the second part comprised an improvement in margins and returns. Currently, the company is working on the third part of the plan, which aims to achieve top-line growth of 4%–5% annually.

Markedly, Leggett has significant operating leverage to accomplish the third part of the plan as it has a considerable amount of retained spare production to meet the demand of $4 billion. In fact, solid market demand coupled with market share gains has been enhancing capacity utilization over the years.

Meanwhile, the company has been focusing on boosting its business portfolio by increasing investment in areas that provide a competitive edge, simultaneously exiting underperforming operations and markets.

Furthermore, in September 2016, Leggett had chalked out its goals for 2019, aimed at helping the company achieve its top-third TSR target in the following three years. These targets include revenue of about $4.75 billion, operating margin of 13.3%, earnings per share of $3.25 and a dividend of $1.70 per share.
Well, the company believes revenues growth, margin enhancement and shareholder-friendly moves like buybacks and dividend payments to be the main TSR drivers. Going forward, the company expects these targets to be fueled by organic growth, which in turn is anticipated to be backed by strategic buyouts, with the absence of any non-recurring factors.

Bottom Line

Though Leggett seems in trouble now, we believe the company's long-term growth plans bode well for the stock.

Want to Know About the Gems in the Consumer Discretionary Space?

Some better-ranked stocks in the broader Consumer Discretionary sector include Crocs, Inc. CROX, G-III Apparel Group, Ltd. GIII and PVH Corp. PVH.

Crocs, with a long-term earnings growth rate of 15% has pulled off average positive earnings surprise of 83.9% in the last four quarters. Also, the company sports a Zacks Rank #1 (Strong Buy). You can see the complete list of today's Zacks #1 Rank stocks here.

G-III Apparel, a Zacks Rank #1 stock has delivered positive earnings surprise of 42.3% in the last quarter. Moreover, it has a long-term earnings growth rate of 15%.

PVH Corp. carries a Zacks Rank #2 (Buy) and has a long-term earnings growth rate of 12.6%. Also, its earnings have surpassed the Zacks Consensus Estimate in each of the trailing four quarters by an average of 3.6%.

Will You Make a Fortune on the Shift to Electric Cars?

Here's another stock idea to consider. Much like petroleum 150 years ago, lithium power may soon shake the world, creating millionaires and reshaping geo-politics. Soon electric vehicles (EVs) may be cheaper than gas guzzlers. Some are already reaching 265 miles on a single charge.

With battery prices plummeting and charging stations set to multiply, one company stands out as the #1 stock to buy according to Zacks research.

It's not the one you think.

See This Ticker Free >>
Want the latest recommendations from Zacks Investment Research? Today, you can download 7 Best Stocks for the Next 30 Days.
Click to get this free report
Leggett & Platt, Incorporated (LEG): Free Stock Analysis Report
PVH Corp. (PVH): Free Stock Analysis Report
Crocs, Inc. (CROX): Free Stock Analysis Report
G-III Apparel Group, LTD. (GIII): Free Stock Analysis Report
To read this article on Zacks.com click here.