Shares of Chipotle (CMG) has bounced back in November after making a new 52-week low around 353. It has rebounded to above 400, but is holding under 420 so far .

CMG Daily Chart 11/23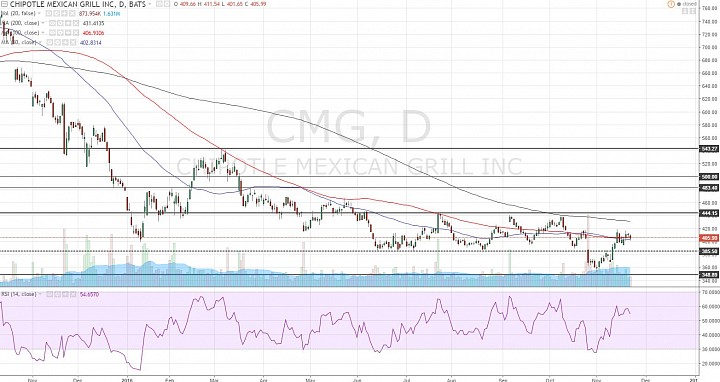 (click to enlarge)

420 could be key:
- The daily chart shows a bearish market that has become less steep. 
- Nonetheless the bearish trend is intact. 
- Now, price has broken below a consolidation range that has been forming from June to October.
- The rebound has brought CMG to that range's central pivot, or middle. 
- Meanwhile, the RSI is back to 60. 
- If price is still bearish, it should hold under 420 and the RSI should hold under 60. 
- If price does hold under 420, we can anticipate continuing downside risk.
- A break above 420, and subsequent confirmation of support around 385 for example, would introduce the bullish reversal scenario.
- For now, we should lean on the bearish side just because the prevailing mode has been bearish and is intact.