Buffalo Wild Wings BWLD just released its second quarter fiscal 2017 earnings results, posting earnings of $0.66 per share and revenue of $500 million. Currently, Buffalo Wild Wings has a Zacks Rank #5 (Strong Sell), and it is down 8.48% to $112.10 in after-hours trading shortly after its earnings report was released.
Buffalo Wild Wings:
Missed earnings estimates.The company posted adjusted earnings of 66 cents per share, after excluding $0.11 for non-recurring items, missing our Zacks Consensus Estimate of $1.01. Adjusted net income was $10.6 million for the quarter.
Missed revenue estimates.The company saw revenue figures of $500 million, missing our estimate of $512.54 million. Total revenue increased $9.8 million, or 2%, in the second quarter compared to $490.2 million in the second quarter of 2016.
Company-owned restaurant sales increased 1.9% to $475.7 million. However, same-store sales decreased 1.2% at company-owned restaurants.
Adjusted net earnings decreased 57.6% to $10.6 million from $25 million in the first quarter.
Looking ahead, Buffalo Wild Wings expects earnings per diluted share of $4.00 to $4.50 for 2017 and adjusted earnings per diluted shares of $4.50 to $5.00. The company expects to open 50 new stores in 2017, and 13 in the third quarter.
"As traditional chicken wing costs remain at historically high levels, we're adapting our value day on Tuesday to feature our boneless wings at company-owned restaurants. Due to our disappointing second quarter earnings and an outlook for slowing traffic as we manage through the Tuesday promotional change, we are lowering our 2017 earnings," said CEO Sally Smith.
Here's a graph that looks at Buffalo Wild Wings' price, consensus, and EPS surprise:
Buffalo Wild Wings, Inc. Price, Consensus and EPS Surprise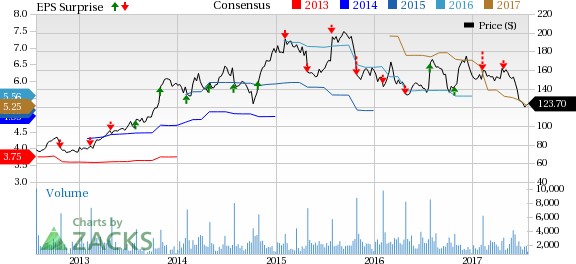 Buffalo Wild Wings, Inc. Price, Consensus and EPS Surprise | Buffalo Wild Wings, Inc. Quote
Buffalo Wild Wing is an owner, operator and franchisor of restaurants featuring a variety of boldly flavored, made-to-order menu items including Buffalo New York-style chicken wings spun in one of their signature sauces. The widespread appeal of the Company's concept establishes its restaurants as an inviting, neighborhood destination.
The Hottest Tech Mega-Trend of All
Last year, it generated $8 billion in global revenues. By 2020, it's predicted to blast through the roof to $47 billion. Famed investor Mark Cuban says it will produce "the world's first trillionaries," but that should still leave plenty of money for regular investors who make the right trades early.
Want the latest recommendations from Zacks Investment Research? Today, you can download 7 Best Stocks for the Next 30 Days.
Click to get this free report
Buffalo Wild Wings, Inc. (BWLD): Free Stock Analysis Report
To read this article on Zacks.com click here.
Zacks Investment Research