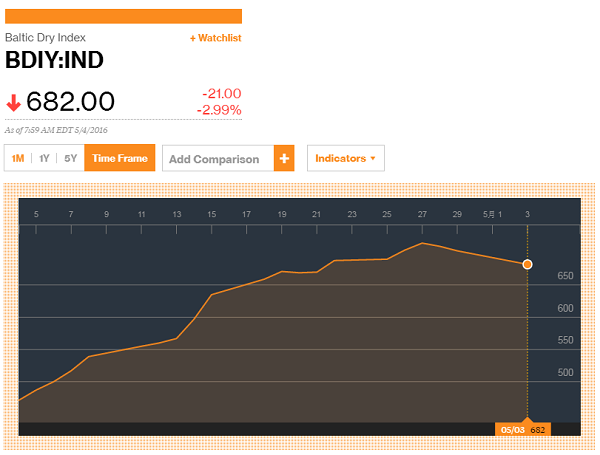 Just wanted to get this note out there quickly in case it has the potential to sway opinions. Navios Maritime Partners (NMM) is due to report earnings at some point this week. Nobody seems to know exactly when, could be as soon as today after market close though. 
Anyway, the BDI slipped back a bit this week, and since I know that shippers have been scrapping a lot, the only logical conclusion to that number declining is that somebody has renegotiated a long-term contract. And it's probably NMM. Expect the rate to be well above spot, but unfortunately, below previous rates. 
Probably not a bad thing, all else equal.
No worries though. This is positive news, because the stock has been priced down in anticipation of this very event taking place. Understand that NMM has been a profitable operation in spite of a weak BDI. This quarter's results will likely be right on par with what they were last quarter. Moving forward however, there will likely be a decline in profits. I couldn't tell you how much right now, but I don't expect a huge, earth-shattering difference. If the contract took a large reduction, expect Navios to have exchanged the adjustment for equity in the counterparty. 
So good news, folks. A possibly positive quarterly announcement. However, as always, if you can't stand the volatility, maybe trim back some shares until we know for sure. At any rate, don't expect anything with regards to dividends being restored. That's not likely given the current environment. Best of luck to all.