As I stated in the article Buying Dividend Growth Stocks Without Looking, I recently skimmed from the top 25 holdings of the Dividend Achievers Index, available in ETF form (NYSEARCA:VIG) from Vanguard.
In March of 2015 I sold VIG and purchased these 15 individual holdings: 3M (NYSE:MMM), Pepsi (NYSE:PEP), CVS Health Corporation (NYSE:CVS), Wal-Mart (NYSE:WMT), Johnson & Johnson (NYSE:JNJ), Qualcomm (NASDAQ:QCOM), United Technologies (NYSE:UTX), Lowe's (NYSE:LOW), Walgreens Boots Alliance (NASDAQ:WBA), Medtronic (NYSE:MDT), Nike (NYSE:NKE), Abbott Labs (NYSE:ABT), Colgate-Palmolive (NYSE:CL), Texas Instruments (NASDAQ:TXN) and Microsoft (NASDAQ:MSFT).
That is the core of my US holdings. As 'picks' I also hold Apple (NASDAQ:AAPL) and Berkshire Hathaway (NYSE:BRK.B).
The reasons why I went for index skimming is explained in the original article linked to above.
Essentially I am looking for generous total return with some lower volatility than the broad market index. It would be nice if the equal weighting of the top holdings of VIG beat the broader market (NYSEARCA:SPY) index. My personal goals are decent total returns with much lower volatility and that is why I stand at about 50% stocks to 50% bonds. It's a mix that is likely to underperform in low volatility bull markets, but outperform through any market correction(s).
The recent mini market correction provides an opportunity to see if stripping out just 15 holdings from an index created more volatility compared to holding the total index ETF. I certainly recognized some of the diversification risks in my original article.
Here's VIG through the previous Recession. The timeline is January 1, 2007 through December 31, 2010. The total return chart is courtesy of low-risk-investing.com. The x axis represents duration in months, the y axis represents total return. VIG is in racing green.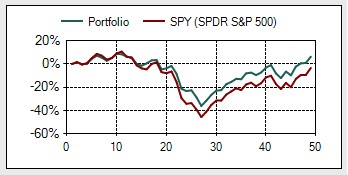 We can see that the Dividend Achievers Index did not fall as far as the broad market SPY, and that given the lower volatility it outperformed SPY in that period.
And here's VIG vs. SPY in the recent 'correction' from June 1, 2015 through September 11, 2015.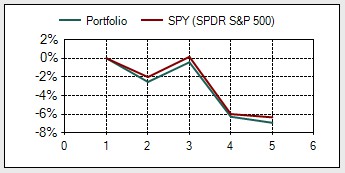 We can see that VIG fell just slightly more than the broad market SPY. According to low-risk-investing, VIG fell 6.9% compared to 6.3% for SPY. No meaningful difference there in my opinion.
And that's not surprising. I see the recent volatility as mostly a non-event. If we look back to the 20% correction we experienced in 2011, VIG held up slightly better than the broad market SPY.
Here's VIG vs. SPY from January 1, 2011 through to December 31, 2011.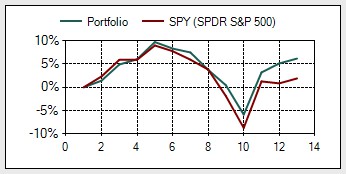 And for curiosity sake, here is an approximation of how my 15 Achievers holdings held up vs. SPY in 2011, according to the low-risk-investing tool. The chart below is for my general evaluation purposes, Walgreens Boots Alliance is not available for the period on low-risk-investing due to the merger and ticker change that occurred in 2014 when Walgreens completed the purchase of Boots Alliance. Compare that to the chart above, and we can see that the companies held up a little better than the underlying total VIG index.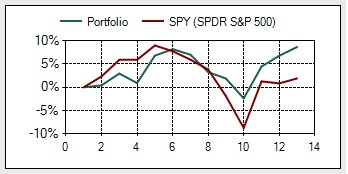 And here's how the VIG 15 did through the recent modest pullback. Remember from one of the charts above, VIG fell 6.9% from June 1, 2015 to September 11, 2015. Low-risk-investing.com can only run groups of 12 companies for total return, so I split the 15 companies into two baskets.
Here's the first group of 7. Companies included are QCOM, MDT, ABT, MSFT, NKE, WMT, CL. The draw down for this group was 7.7% compared to 6.9% for VIG.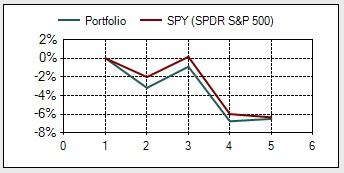 And here's the final 8. Companies included are TXN, UTX, LOW, WBA, CVS, MMM, PEP, JNJ. The draw down for this group was 6.5% compared to 6.9% for VIG.
The draw down for the total 15 is just above 7%. The portfolio of 15 tracked very close to the underlying index even in a minor pullback.
Once again this demonstrates to me that I can capture much of the growth and diversification of the underlying index with just 15 holdings. I am not 'itching' to add more holdings from VIG to reduce diversification risk. I do not think much would be accomplished by adding more from the top 25 of VIG. In fact my next addition will likely be another 'pick' in BlackRock (NYSE:BLK).
My opinion is that dividend growth history is a divining rod that finds companies with earnings power and underlying financial stability. While I cheekily write that I am buying companies without looking, it takes an incredible company to make it to the top of a large-cap dividend growth index such as the Dividend Achievers. It takes an incredible company to become a Dividend Aristocrat (NYSEARCA:NOBL).
As far as my personal portfolio 'goes', over the last year the Canadian markets (TSE composite) are down some 12.99%; according to TD Waterhouse, our personal discount brokerage accounts are up a few percentage points. Here's a 1 year chart created for one of our TD Waterhouse accounts. It shows the personal portfolio up a modest 2.2% year over year. Interestingly, you can see the effect of the strong US dollar when the S&P 500 is held (unhedged) in a Canadian account.
The account is very conservative, having started the year with more than 50% bonds, it now sits about 50% equities to 50% bonds as all portfolio income was reinvested into the equities. My personal account is in green.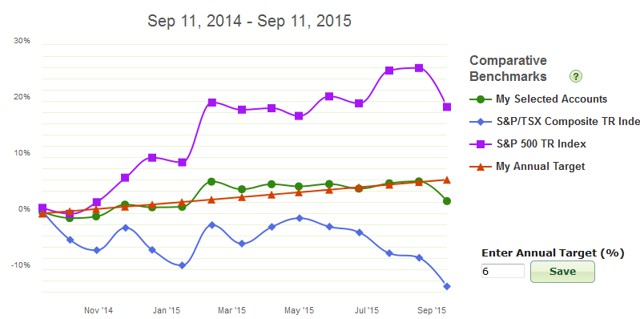 Until there is any true market correction (and noticeable investor capitulation) I will simply continue to dollar cost average portfolio income into the Canadian and US equities. If there is a major correction I may then consider re-allocating to a more equity intensive asset mix.
Thanks for reading. Always know (and invest within) your risk tolerance level.
More