LG's portable design can be rolled up into an easy-to-carry "stick."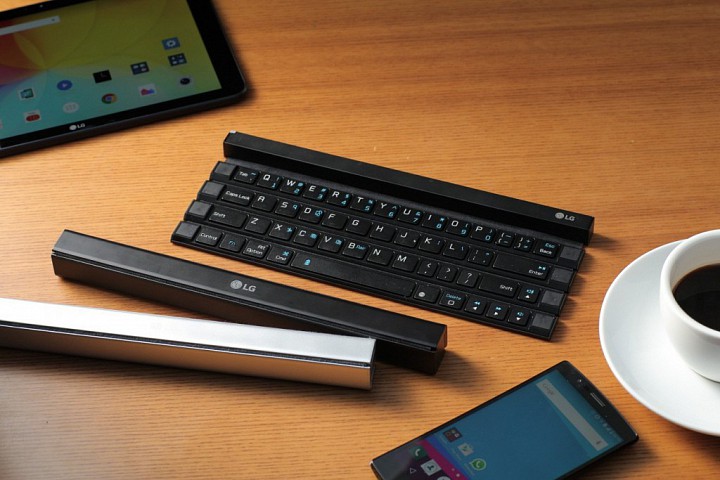 Ahead of IFA 2015 in Berlin next month, LG has unveiled the world's very first solid rollable wireless keyboard. Aptly dubbed "Rolly," the full-size keyboard — crafted out of impact-resistant and durable polycarbonate and ABS plastic — folds up along four rows to create an easy-to-carry "stick" that can be stowed in one's pocket or bag. Rolly even comes with a fold-out mobile device stand and high-contrast keys while a 17mm key pitch means its portability doesn't sacrifice comfort — it's nearly as generous as the 18mm pitch found on prototypical keyboards of the desktop variety. Best of all, simply unfolding the design automatically enables the auto-pairing function of its Bluetooth 3.0 connectivity while the keyboard can be paired with two different devices at the same time, switching back and forth with a single key press. Said LG's Vice President of Innovative Personal Devices, Seo Young-Jae:
LG Rolly Keyboard is just one of the many premium input devices we'll be unveiling in the coming months as we expand our accessories offerings. The goal was to create a product that could add more value to LG smartphones and tablets at the same time offering a unique design proposition that hadn't been explored before.
The Rolly Keyboard will make its debut in September in the United States (before hitting Europe and Asia later this year) while IFA attendees can see the design up close in Berlin from September 4 through September 9.
Author: T.S. Fox