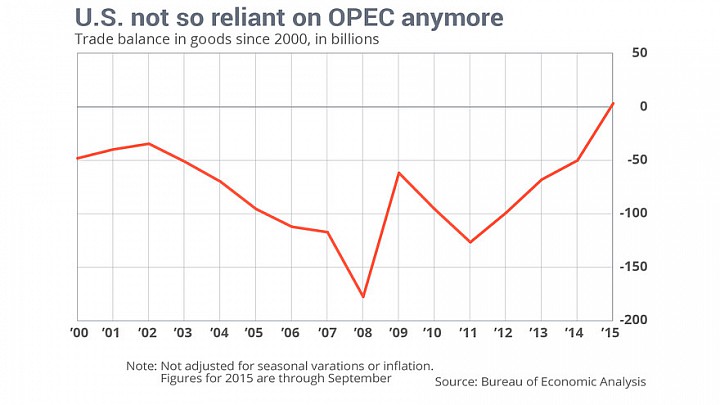 The days of OPEC trying to boss the United States around are so over.
In September, the U.S. recorded its biggest-ever monthly surplus of goods with members of the Organization of Petroleum Exporting Countries: $1.4 billion. The U.S. is also on track to post its first annual goods surplus with OPEC since the government began keeping records in 1985.
Now a surplus of a few billion dollars doesn't sound like much, but just a few years ago the U.S. posted a whopping $126.7 billion deficit in goods with OPEC that was mainly about oil. And in 2007 the goods deficit with Saudi Arabia, Venezuela and other members of the cartel peaked at $177.7 billion.
In both instances, soaring global oil prices was the culprit.
The plunge in oil prices over the past year goes a long way to explain the vastly improved U.S. trade relationship with OPEC. The average cost of imported oil sank to $42.72 in September from a midsummer high of $54.20, government figures show. That was the lowest price in more than a decade.
Another big factor in OPEC's waning influence is a renaissance in domestic oil production spawned by fracking. U.S. field production of petroleum surged to 3.18 billion barrels in 2014, the largest amount since 1985, according to the Energy Information Administration.
The gush of U.S. oil has also contributed to the steep drop in global petroleum prices.
In sheer volume, the country that's lost out the most is Saudi Arabia. The value of U.S. imports from Saudi Arabia — mostly oil — totaled $17.5 billion through the first nine months of 2015. Imports of Saudi goods are on track to end up at an 11-year low and fall below an all-time high of $55.7 billion in 2012.
Oil imports have also fallen sharply from Iraq and Venezuela. Other notable members of OPEC include Iran, Kuwait, Nigeria and Libya.
Although OPEC has lost much influence, the U.S. is still not in a position to ignore what goes on in the Middle East and North Africa where most of its members are based. Much of the world's oil is still produced by OPEC members and an interruption in the flow of petroleum because of political instability could still damage the global economy like it has in the past.
Even if the U.S. truly becomes energy independent again — a farfetched fantasy just a few years ago — Washington can ill afford to allow a global disruption in the supply of oil that raises costs for every country.
More from MarketWatch