Last month we observed that in the aftermath of the worst print in non-revolving (i.e., student and auto loans) debt since November 2013, that the subprime-credit driven, pardon the pun, feeding frenzy for cars is now over. And sure enough, following this month's disappointing auto sales which missed virtually for every single producer, we were again correct. This month, however, things are even worse, because while last month it was the collapse in the non-revolving debt that was the highlight, at least it was modestly offset by a surge in revolving credit as consumer loaded up the credit cards. No such luck this month.
Moments ago, we learned that consumer credit in January crashed from a revised $17.9 billion to only $11.6 billion, far below the 414.7 billion expected,  the biggest miss since August, and the lowest growth in consumer credit since November 2013.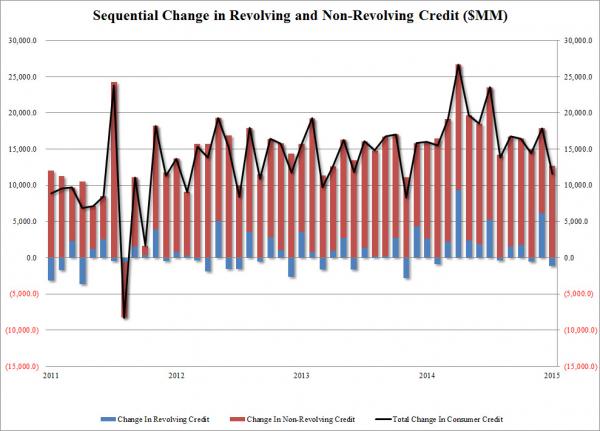 And while non-revolving debt did post a modest rebound from last month's plunge, rising from $11.7 billion to $12.7 billion, which was still the lowest since 2013 excluding January...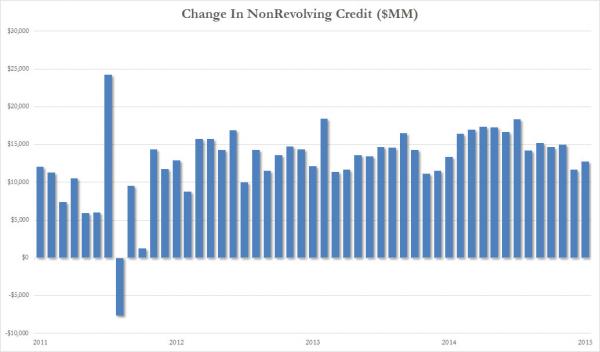 ... it was the plunge in revolving, credit-card, debt that was the huge outlier this month, after revolving credit crashed from $6.2 billion in December to a negative $1.2 billion in January - this was the biggest drop in revolving credit since 2013!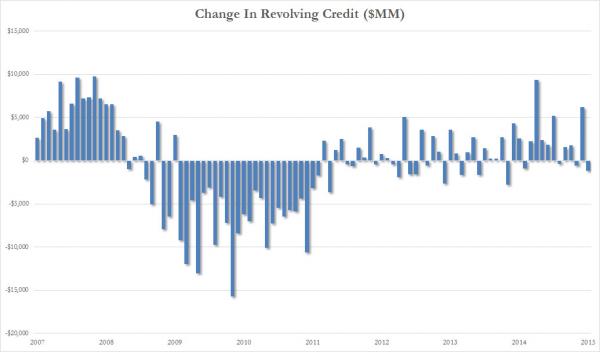 In other words, US consumers are not only not spending (and as we noted are in fact boosting their savings), but have just slammed the breaks on charging their credit cards, which in turn explains the abysmal retail sales of the past two months, the worst streak since Lehman.
That all of this data roundly refutes the "unambiguously good" read of sliding (and now rising) gas prices as pertains to consumer spending, goes without saying.