The U.S. Patent and Trademark Office on Monday rejected an attempt by hedge fund manager Kyle Bass to challenge two patents relating to Acorda Therapeutics Inc.'s flagship multiple sclerosis drug Ampyra.
Mirroring the development, shares of Acorda surged 31% to $38 in after-hours trading on Monday, and are currently up 15% in market trading on Tuesday.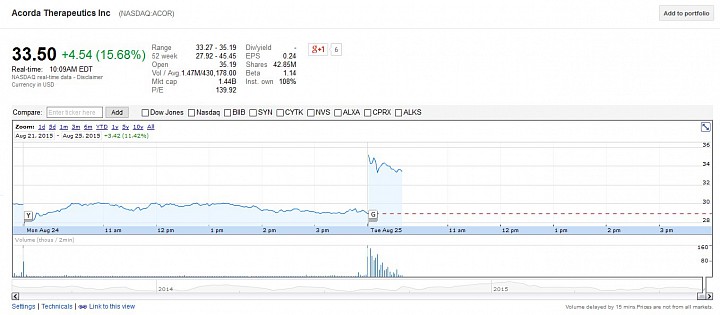 As detailed by ValueWalk, Kyle Bass, founder of Dallas-based hedge fund Hayman Capital Management, filed his first Inter Partes Review (IPR), a legal move challenging big pharma and their control over drug distribution and prices, back in February. His first target was Acorda Therapeutics, a biotechnology company based in Ardsley, New York, whose drugs primarily target neurological functions in people with multiple sclerosis.
The patent challenges were filed by the Coalition for Affordable Drug Prices, an organization created by Bass. Data from the patent office reveals the coalition has filed over 20 challenges against pharmaceutical patents held by companies including Biogen and Celgene.
Bass' strategy of using the patent review process to seek invalidation of intellectual property protection on blockbuster pharmaceutical drugs and then shorting the firms...
More