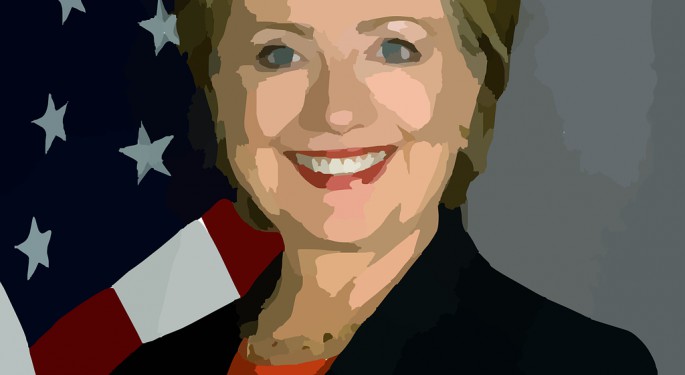 Support for Hillary Clinton continues to surge, even though she recently registered historic records of unlikeability.
A poll cited in NY Daily News showed that 57 percent of voters had negative opinions of both presidential candidates, an all-time high. Meanwhile, only 41 percent had a positive opinion of Clinton.
Even by a small margin, Clinton is more liked than Trump, especially after the DNC. Public endorsements continue to support this idea.
Related Link: Clinton's Campaign Money: Attorneys And Hedge Funds Are Crucial
The Simpsons
Twenty-First Century Fox Inc FOX 0.41%'s The Simpsons seem to go through the same struggles most Americans do.
"I can't make love until I've decided who to vote for," Marge voiced.
"Yep, it's the American way," Homer answered as he turned on the TV, which started airing a spot showing how the candidates would react if called to the situation room at 3 a.m.
By the end of the transmission, Marge made up her mind: she couldn't be with someone who would vote for Trump.
"And that is how I became a Democrat," Homer concluded, as the couple agreed that Hillary was the way to go.
Warren Buffett & Mark Cuban
Another very popular public figure that made up his mind is the Oracle of Omaha, who endorsed Clinton back in December. The Berkshire Hathaway Inc. (NYSE:BRK.A) (NYSE:BRK.B) CEO will introduce Clinton at an event in his hometown Monday night.
Mark Cuban also endorsed Clinton publicly in his hometown, Pittsburgh, last Saturday.
"Leadership is not yelling, and screaming and intimidating," he stated. "Is there any bigger jagoff in the world than Donald Trump?"
Related Link: The U.S. Presidential Run Is Much More Expensive Than You Might Think
Moody's
"Near-term growth is supported by the stimulus provided by her spending plans in combination with much stronger foreign immigration," Moody's chief economist Mark Zandi said about Clinton's plan. "While her budget arithmetic does not completely add up, it is pretty close, and the nation's debt load under her plan is no different than under current law."
"The economy will be significantly weaker if Mr. Trump's economic proposals are adopted," the report went on. "By the end of his presidency, there are close to 3.5 million fewer jobs and the unemployment rate rises to as high as 7 percent, compared with below 5 percent today… During Mr. Trump's presidency, the average American household's after-inflation income will stagnate, and stock prices and real house values will decline."
© 2016 Benzinga.com. Benzinga does not provide investment advice. All rights reserved.