What Could China's March Data Mean for Crude Tanker Investors?
China's import-export data
China's total exports for March 2016 rose by 18.7% on a year-over-year basis. This was the first time since December that imports had a positive growth. In January and February, imports fell 6.6% and 20.6%, respectively, on year-over-year basis. Its imports dipped by 1.7%, but this was an improvement from the previous month's fall of 8.7%. In spite of the fall in total imports, China's crude oil imports surged.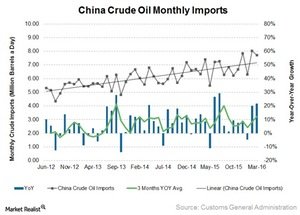 China's crude oil imports: March
According to General Administration of Customs data released on April 13, 2016, in March, China imported 32.6 million metric tons of crude oil, which equals 7.7 million bpd (barrels per day). The daily imports were 22% higher than the 6.3...
More