U.S. stock futures are pushing the major market indices toward fresh record highs this morning, as Wall Street cheers dovish comments from Federal Reserve President Janet Yellen. Speaking before the House Financial Services Committee yesterday, Yellen stressed the Fed's gradual approach to tightening monetary policy and said that interest rates won't rise much further.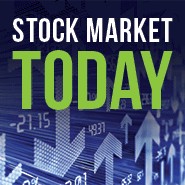 Oil, meanwhile, is getting hammered after the International Energy Agency said it expects slowing global demand for the rest of the year and noted that the global oil supply rose by a greater-than-expected 720,000 barrels per day in June. Increased U.S. output and weak compliance with production cuts from OPEC members were largely to blame for the rise.
The overall effect for futures has been bullish this morning. Futures on the Dow Jones Industrial Average were last seen higher by 0.03%, S&P 500 futures were up 0.1% and Nasdaq-100 futures had added 0.1%.
On the options front, volume returned to normal on Wednesday, with about 14.5 million calls and 13.1 million puts changing hands. On the CBOE, the single-session equity put/call volume ratio dropped to 0.60, though the 10-day moving average held at 0.64.
Taking a closer look at Wednesday's options activity, Facebook Inc (NASDAQ: FB ) saw increased call volume after the company announced plans to roll out Messenger ads to all 1.2 billion users sooner rather than later. Elsewhere, an Nvidia Corporation (NASDAQ: NVDA ) bear at SunTrust Robinson Humphrey has flipped and upgraded the stock to "buy," while Netflix, Inc. (NASDAQ: NFLX ) options traders gear up for Monday's trip to the...
More