Toyota Motor (NYSE: TM) is one of the most respected auto manufacturers in the world. And last year, it sold a whopping 10.2 million vehicles across the globe. Tesla (NASDAQ: TSLA), on the other hand, is the David to Toyota's Goliath. Last year, Elon Musk's electric-car start-up delivered just over 76,000 cars to its buyers. And yet, despite the vast disparity in vehicle volumes, Tesla is valued at a whopping $53.5 billion -- approximately a fourth of Toyota's market capitalization of $185 billion, despite selling only 0.745% as many cars as the Japanese automaker. Clearly, there's more to this than meets the eye. But is it enough to explain Tesla's sky-high valuation? And which of these stocks is the better buy for investors?
Recent share-price performance and valuation
Tesla stock has seen a massive high in the first half of 2017, an increase of about 50%. Tesla's market cap signals an immense level of investor confidence in the company's execution. Fueled by dreams of ever-increasing car deliveries and new products, investors have continued to pile in. And they aren't crazy. During the second quarter of fiscal 2017, Model S and Model X combined deliveries grew almost 53% globally year over year. That's a big deal, since the luxury-vehicle market (the automotive segment Tesla is currently categorized under) was essentially flat over that same time period.  However, all this attention has garnered Tesla a sky-high valuation: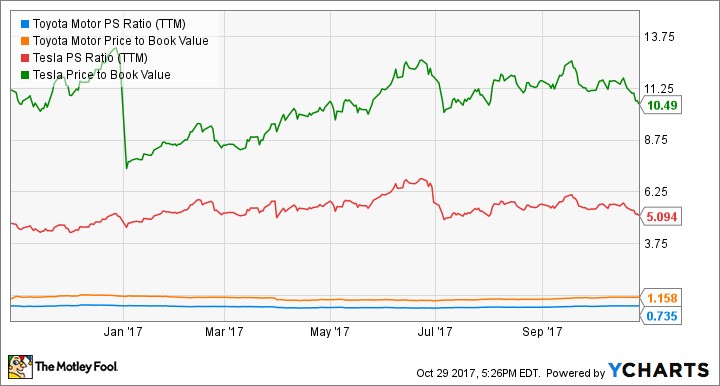 TM PS Ratio (TTM) data by YCharts.
A simple price-to-earnings valuation between these two companies isn't even possible: Tesla is deep in the red so far this year and lost $675 million on a GAAP basis in 2016.
Our Goliath, on the other hand, continues to sell millions of cars and produce billions in profits. For the quarter ended June 30, 2017, net sales amounted to $63.49 billion and net income $5.52 billion. In just one quarter, Toyota earned more money than Tesla is likely to spend on the Gigafactory. Toyota's shares have risen just 5% year to date, failing to match even the S&P 500's near-15% increase. The market knows that, as a mature automaker, Toyota is unlikely to generate double-digit profit growth. Fortunately for value-minded investors, Toyota's shares trade at a forward P/E ratio of just 12 and sport a 3% dividend yield. This battle is no contest. 
Winner: Toyota.
Dividends and financing moves
Tesla has never declared or paid any cash dividends. This should come as no surprise: It is a young company at what investors believe is just the beginning of a long runway of growth. Toyota, on the other hand, is a mature giant. It not only has the capital and profits necessary to fund operations, but it even repurchased 50 million of its own shares earlier this year. As icing on the cake, it currently offers investors a dividend yield of 3.01% and has more than exercised its right to repurchase its stock.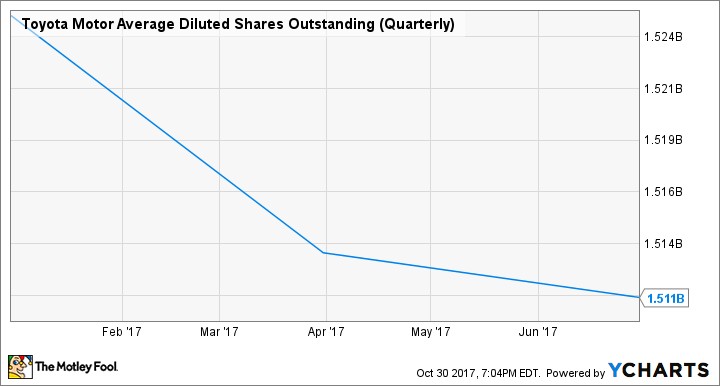 TM Average Diluted Shares Outstanding (Quarterly) data by YCharts
Tesla is a different story. Not only is Musk's company burning through cash (capital expenditures through June 30 have amounted to $1.93 billion ), but it is issuing heaps of shares (and a few billion in bonds) to keep building itself: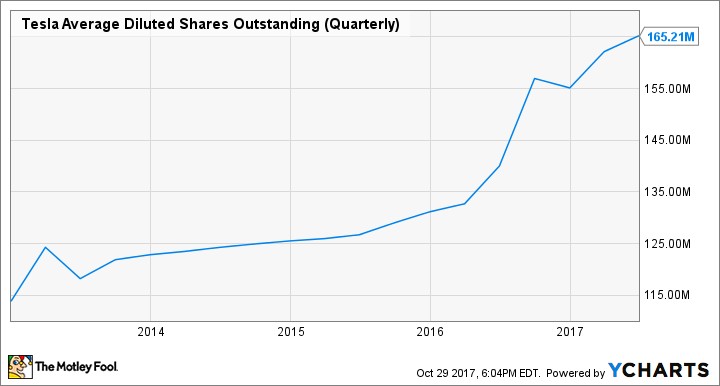 TSLA Average Diluted Shares Outstanding (Quarterly) data by YCharts.
Again, it's a very simple call.
Winner: Toyota.
Growth prospects
It is when we consider growth potential that Tesla shines. 
Though it sold just 76,000 vehicles last year, the company is gearing up to sell around 1 million cars by 2020. While this projection might sound like a big leap, it is certainly in line with its past performance. Tesla also currently dominates the U.S. electric-vehicle market:
It's simple: Tesla's value lies in all of this potential. No one knows if electric cars will be sold by the millions per year someday. Or if Tesla will continue to dominate the space in the U.S. But Tesla has delivered so far, and it has a great deal of optionality via ancillary products like the Powerwall and Solar Roof tiles, which could make a Tesla "ecosystem" incredibly sticky. 
Toyota is the quintessential mature company. It regularly trades spots with Volkswagen for world's largest automaker. Great place to be, but matching Tesla's growth rates is a tall order. Tesla is a leader in a fast-growing segment of the automotive market -- electric cars. It is almost sure to benefit as more and more consumers demand electrified vehicles. The International Energy Agency reported that the market for electric vehicles grew 60% in 2016 and could reach 30% of all automotive sales by 2030. Toyota is also getting in on the all-electric-vehicle game. But Tesla has first-mover advantage in the mass-production of highway-capable all-electric vehicles thanks to its Model 3.
Winner: Tesla.
And the winner is...
The clear winner here is Toyota.
Tesla could very well accomplish its goals.  But even if it does, Tesla shareholders are unlikely to experience exceptional results. The stock is just too expensive. There are countless potential outcomes to Tesla's story, from the fantastic to the tragic, and a lot has to go right for Tesla to be a rewarding investment. Toyota is a not only an incredibly efficient car manufacturer but a moneymaking machine. With a low P/E ratio and 3% dividend yield, Toyota is the better buy today. 
10 stocks we like better than Toyota Motor
When investing geniuses David and Tom Gardner have a stock tip, it can pay to listen. After all, the newsletter they have run for over a decade, Motley Fool Stock Advisor, has tripled the market.*
David and Tom just revealed what they believe are the 10 best stocks for investors to buy right now... and Toyota Motor wasn't one of them! That's right -- they think these 10 stocks are even better buys.
Click here to learn about these picks!
*Stock Advisor returns as of October 9, 2017
Sean O'Reilly has no position in any of the stocks mentioned. The Motley Fool owns shares of and recommends Tesla. The Motley Fool has a disclosure policy.