The AUD/USD is in a strong bullish breakout during the 2/24 US session as seen in the 4H chart. 
It looks poised to test this year's highs just under 0.9085. A break of that would open up the Nov-Dec consolidation highs just under 0.9170.
I want to use this as another example of using RSI to confirm up trend, and using the S20-R40 combination to time the buying-on-dip trades.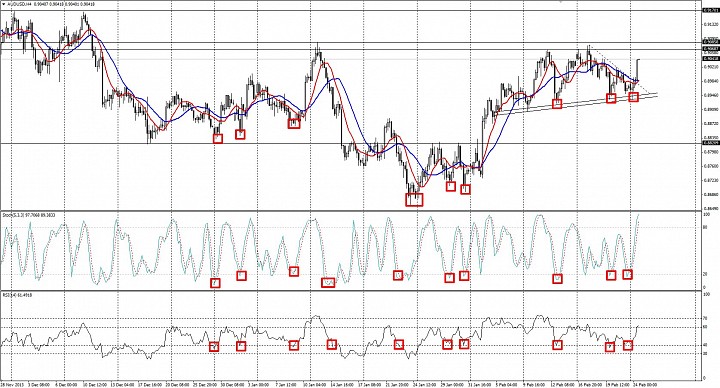 (AUD/USD 4H chart: Click to see full size)
This combination does correspond to many reversals on a retracement. But, you can also see failures of this combination 
1) during a downtrend
2) sometimes if market is still consolidating, it is not always followed by higher highs, and sometimes will still be followed by a lower low.
Will the current combination along with the break result in a higher high? 
I also see a possible analogy of the current price development to previous price action. I will discuss this further next time, especially if price DOES break the 2014 high. Do you see what I am talking about?