The Indian Motorcycle nameplate is arguably the first thing to pop into one's mind when discussing Polaris Industries (NYSE: PII) motorcycles. Bought out of bankruptcy in 2011, the iconic motorcycle brand has powered Polaris to the No. 2 position in the big bike market as it consistently records triple- and double-digit sales growth quarter after quarter. It rightly deserves the spotlight.
But Polaris has another big motorcycle brand, one that preceded Indian and often hides in the shadow cast by its peer. Yet it may be poised to become just as effective a tool in luring riders away from archrival Harley-Davidson (NYSE: HOG) as its seemingly more popular mate.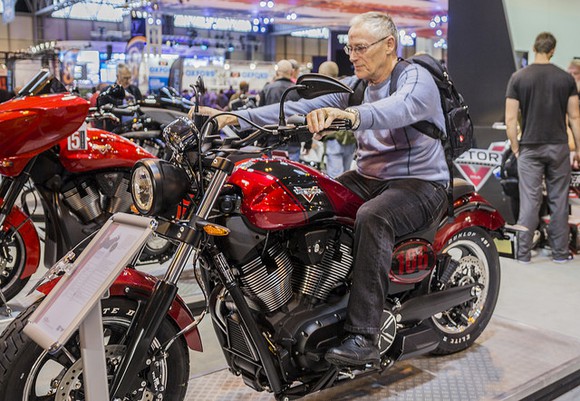 V is for Victory
The first Victory Motorcycles bike rolled off the production lines on July 4, 1998. Polaris, which was then a powersports vehicle maker known for its snowmobiles and ATVs, saw an opportunity to steal market share from Harley by building a competitive big bike.
Harley's popularity had been soaring throughout the 1990s, which saw the introduction of the Fat Boy, the Dyna Glide, and the Twin Cam 88 engine. At 88 cubic inches (1,450 cubic centimeters) of displacement, it was Harley's largest production engine, producing 80 horsepower (it's since surpassed that, and just recently introduced its ninth new engine, the Milwaukee-Eight, that offers two versions, a 107 ci (1,750 cc) model and a 114 ci (1,870 cc) powerhouse, with about 92 hp and 100 hp, respectively).
Yet Polaris saw that the burgeoning demand for these bikes also left it a big opening to ride through: Buyers had long wait times to get one, and Harleys were overly expensive to build and buy. Polaris felt it could enter the big bike market, which was the sweet spot for motorcycles, with a competing brand that could give it the optimal blend of sales and profit margins.
A competitive edge
The first bike was the Antares Red & Black V92C, where "V" stood for Victory, "92" for the 92 ci engine displacement, and "C" for cruiser. The bike was quickly named the "best cruiser" for the year by Cycle World, and Polaris was now in the motorcycle manufacturing business in earnest. In 1999, it introduced a sport cruiser model, the V92SC, and in 2000 came the Victory Deluxe.
Of course, motorcycles always accounted for just a small percentage of Polaris' total sales, but just as they were starting to heat up, the recession hit, and both Polaris and Harley-Davidson saw motorcycle sales fall.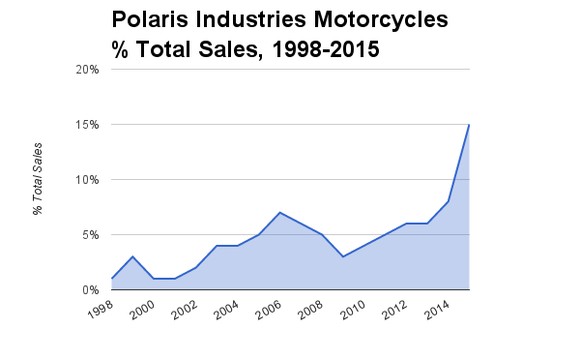 Data source: Polaris Industries annual SEC filings.
On the warpath
Beginning in 2011, though, and not coincidentally with the purchase of the Indian brand, motorcycle sales began to recover. In 2012, they soared 46% largely because of its Victory brand, but the following year, the introduction of the 2014 model year bikes for Indian saw the legendary nameplate assume supremacy.
Indeed, sales of Victory bikes soon began to falter, and in the fourth quarter of 2015, they were tumbling by mid-teen percentages, even as Indian motorcycles were selling at double- and triple-digit rates.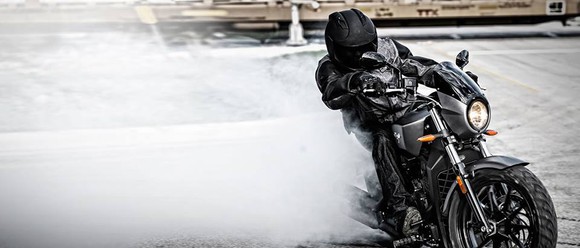 Smoke 'em if you got 'em. The Victory Octane has power to burn. Image source: Victory Motorcycles.
However, an interesting thing began to happen this year: a turnaround in Victory sales. For the past two consecutive quarters, Victory motorcycles have reported positive gains, and in its third-quarter results posted at the end of October, Polaris said combined sales of Indian and Victory bikes were up by low-teen percentages. No doubt most of that was still comprised of the former, but it indicates that Victory sales continue to recover.
With new 2017 model-year bikes like the Octane -- the brand's first midsize performance cruiser that takes direct aim at Harley's popular Sportster Iron 883 or Street models -- and the High Ball, Hammer S, and Vegas, Victory motorcycles look like they're ready and able to overtake the competition and power even more market share gains for Polaris Industries.
Forget the 2016 Election: 10 stocks we like better than Harley-Davidson
Donald Trump was just elected president, and volatility is up. But here's why you should ignore the election:
Investing geniuses Tom and David Gardner have spent a long time beating the market no matter who's in the White House. In fact, the newsletter they have run for over a decade, Motley Fool Stock Advisor, has tripled the market.*
David and Tom just revealed what they believe are the ten best stocks for investors to buy right now… and Harley-Davidson wasn't one of them! That's right -- they think these 10 stocks are even better buys.
Click here to learn about these picks!
*Stock Advisor returns as of November 7, 2016
Rich Duprey has no position in any stocks mentioned. The Motley Fool owns shares of and recommends Polaris Industries. Try any of our Foolish newsletter services free for 30 days. We Fools may not all hold the same opinions, but we all believe that considering a diverse range of insights makes us better investors. The Motley Fool has a disclosure policy.