Nielsen Holdings plc NLSN yesterday rolled out an innovation evaluation framework for fast-moving consumer goods (FMCG) clients.
The company claims that Target Group Performance Analysis has an edge over traditional target group analytics due to its ability to precisely assess responsiveness of a particular buyer segment to a certain innovation.
Jenny Frazier, senior vice president of Nielsen's Innovation group stated, "Nielsen Target Group Analysis will takes the guess work out of targeted initiatives for our clients and will add context and confidence to targeted innovation decisions with both survival and strategy in mind."
Eases Innovative Decision Evaluation
The new framework is based on Nielsen's proprietary database and profound knowledge of target response patterns and can provide actionable insights related to a particular buyer. It offers companies a strong framework to examine innovation decisions by having a complete view of a specific buyer.
Companies can enhance their decision making based on overall probability of success and the probability of attracting their strategic buyer.
Our Take
The move is a prime example of how Nielsen is utilizing its strong position in retail measurement, consumer panel measurement, consumer intelligence and analytical services markets and focus on innovation to gain new clients.
We believe the move underscores the company's intent to expand its client base and boost its Buy segment revenues from developed markets. The performance of the segment was particularly weak in the last quarter.
In the first quarter, Buy business revenues were $757 million (49.6% of total revenue), down 4.5% year over year and 3.7% on a constant currency basis. Excluding the foreign currency impact, revenues in the Developed market were down 7.3% due to softness in the U.S. market. However, revenues from emerging markets were up 9.9% on a constant currency basis.
Nielsen N.V. Revenue (TTM)
Going forward, strengthening Buy segment revenues could boost shares that depreciated 25.6% in the last one year. This is in contrast to the Zacks Business - Information Services industry's gain of 6.1%.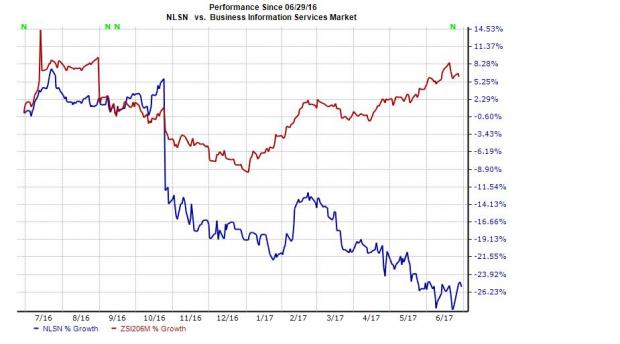 Nielsen has a huge and diversified client base that includes various Fortune 500 companies, most of which are Consumer Packaged Goods (CPG) and media companies.
Zacks Rank and Stocks to Consider
Currently Nielsen is a Zacks Rank #3 (Hold) stock.
Better-ranked stocks in the broader technology space include Square SQ , Benefitfocus BNFT and BlackLine BL, each with a Zacks Rank #2 (Buy). You can see the complete list of today's Zacks #1 Rank stocks here .
Notably, the projected long-term growth rates of Square, Benefitfocus and BlackLine are 23.5%, 23.3% and 30%, respectively.
Today's Stocks from Zacks' Hottest Strategies
It's hard to believe, even for us at Zacks. But while the market gained +18.8% from 2016 - Q1 2017, our top stock-picking screens have returned +157.0%, +128.0%, +97.8%, +94.7%, and +90.2% respectively.
And this outperformance has not just been a recent phenomenon. Over the years it has been remarkably consistent. From 2000 - Q1 2017, the composite yearly average gain for these strategies has beaten the market more than 11X over. Maybe even more remarkable is the fact that we're willing to share their latest stocks with you without cost or obligation. See Them Free>>
Want the latest recommendations from Zacks Investment Research? Today, you can download 7 Best Stocks for the Next 30 Days.
Click to get this free report
Nielsen N.V. (NLSN): Free Stock Analysis Report
Square, Inc. (SQ): Free Stock Analysis Report
Benefitfocus, Inc. (BNFT): Free Stock Analysis Report
BLACKLINE INC (BL): Free Stock Analysis Report
To read this article on Zacks.com click here.
Zacks Investment Research