I absolutely love unusual options. I think they provide a window in the "big boys' club". The "big boys" undoubtedly have more information about the market than any retail investor. This is not always because they have inside information - the "big boys" (or "smart money") live by the market. It is their job to know everything and be on the cutting edge in order to deliver alpha to their clients. Services like Yahoo Finance allow retail investors to peek into the "big boys' club" by offering widgets like the Options Center. I casually scan information in this widget and oftentimes find interesting trades. Today is yet another day when I found something exciting:


(Source: Yahoo Options Center)
There are a few things that caught my attention in this particular case. First of all, NewLink Genetics Corp. (NLKN) is quite a small pharmaceutical company by global standards - it has a market capitalization of around $560M. The trade that was done today - the 6.3K contracts purchase - is quite significant in relative terms. In fact, the investor is effectively long 633K+ shares of the company's stock from $21 and onward. The total share count is just below - the position is effectively equivalent to over 2%. In USD terms, the position is worth $1.9M - not a small amount even for "smart money", especially given the fact that this is a relatively small pharmaceutical company that has a lot of its products stuck in Phase 2 of the FDA approval process: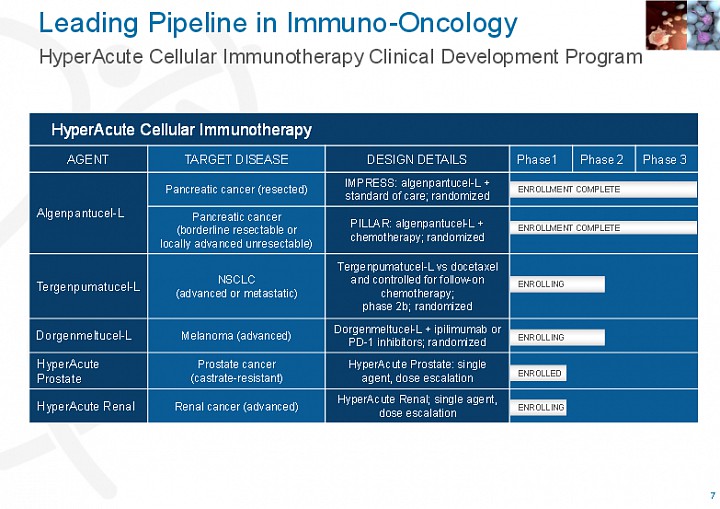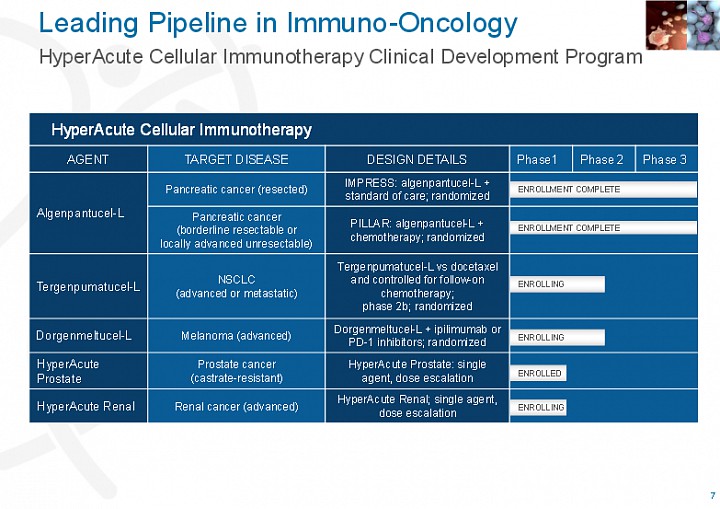 (Source: Corporate Presentation as of February 2016)
Secondly, the option is technically out-of-money as it has a strike price of $21, while the stock closed at $19.36 on Wednesday, April 6, 2016. I like when smart money chooses these for three reasons:
(1) It means that the investor is confident in his position;
(2) It means that the investor is unlikely to be using this option as a hedging mechanism;
(3) Out-of-money options provide the best leverage and, hence, the best return opportunity.

In order to make sure that the investor has used the options to establish a long position, instead of hedging his downside in a short sale, we have to look at the day's chart: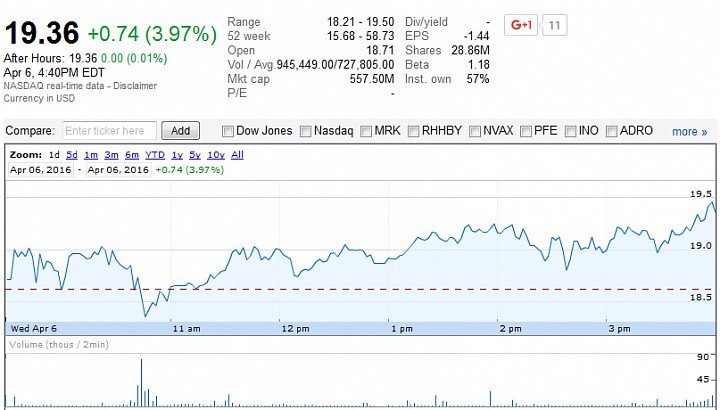 (Source: Google Finance)
There are three things worthy of notice on this chart:
(1) The stock closed in the black today. This is a good hint that the options trade was done to establish a long position. In addition, Yahoo Finance tells us that the short interest remains stable at ~30% of float.
(2) The volume today is above normal. Readers can see that the bulk of the volume took place before 11:00 AM on a downside move. This may look like the traders actually sold the stock short instead of buying it. On the other hand, if we sum up the volume figures in the mentioned time period, we will hardly arrive to a share count even remotely resembling the option trade's size (a 633k position). We can assume that this trade was delta-neutral which is why the amount of shares traded in this time period is roughly equal to the half of the options position, but in my opinion trading non-directional delta-neutral strategies in such a relatively small stock is simply inefficient. There is no reason to believe that implied volatility will drop in a pharmaceutical company's stock that has a lot of anticipated highlights down the road this year (read on).
(3) We simply cannot be sure that the options trade was done at the same time as the downward move in the underlying took place.
In addition, a few hedge funds have increased their stakes in the company just a couple of days ago. Analysts have increased their one-year average target price to $47.83 per share. What could be the reason for this interest from the "big boys"? Well, the latest earnings press release (end of February 2016) indicated that there are a few important milestones maturing this year:

(Source: February 2016 press release)
As you can see, some of the products in the company's pipeline will either be axed this year or given green light. Either event will cause violent volatility on the market. However, what I am certain about is that no smart money player will be crazy enough to risk $1.9M betting on a binary outcome: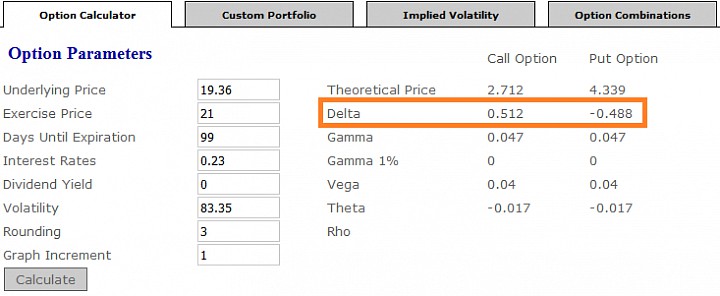 (Source: option-price.com)
Note: the Delta shows an approximate probability of the option being in-the-money given the current level of implied volatility and duration.
Finally, this particular trade's volume is the highest volume/open interest for all expiration dates (I have checked, trust me). There are a couple of strikes (October 2016 puts and January 2017 calls) that have an open interest in excess of 5K contracts but neither of them is close to the trade size that took place on Wednesday. This is yet another point that makes me believe this OTM calls purchase was indeed a calculated move by a big investor. I am willing to get on-board with a small position (3 - 5 contracts). Keep in mind that this is a risky strategy: if the stock remains below $21 per share at the options' expiration, they will expire worthless.

What do you think of this unusual options trade?