The big news last week was the broader markets large drop on Wednesday. What makes this drop concerning – at least short-term – is that happened after retesting a prior high from where prices fell rather hard. Will the markets continue falling or was that the end to the selling. Wouldn't all like to know for sure? Let's see what happened across the broader markets and mark some lines in the sand.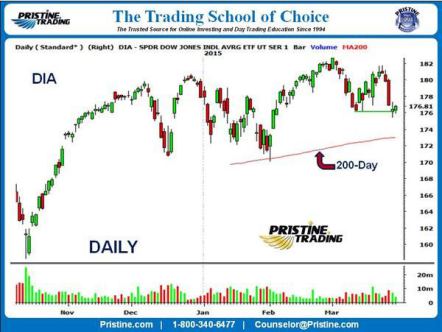 The above chart of the Dow Jones Industrials shown with the ETF symbol DIA declined to the area of its prior pivot low where is stabilized. If prices were able to overcome Thursday's high it would open the possibility of moving to higher levels. How high? That's hard to say because of the way prices fell. Meaning on the intra-day time frame (not shown), it was straight down with very small stalls sideways and no retracements. However, if DIA was able to regain 179.00 to 179.50 it could open the possibility of Wednesday's drop being a one-day correction.
Do realize that the monthly and weekly trends are up and this daily price action is just noise within those trends. That isn't to say that what started Wednesday could not turning to a larger correction. All corrections on higher time frames do begin in a lower time frame. If DIA was to break below Thursday's low that opens the door to testing the 200-day moving average in the area of 173.00. Our first lines in the sand are Thursday's high and low. From there we'll see what happens.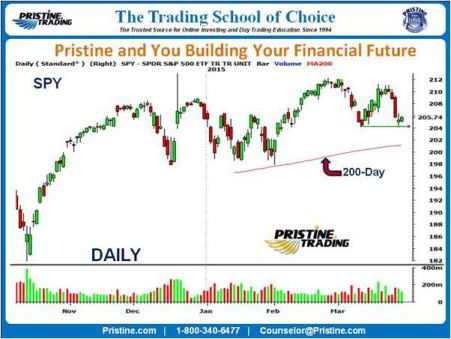 Above is the S&P 500 shown with the ETF symbol SPY. It also fell to its prior pivot low and stabilized. Thursday's high and low are also the first lines in the sand for SPY. Moving above 208.00 would increase the possibility that Wednesday's large red candle may be negated in the short-term. If SPY moves below Thursday's low. I think the 200-day moving average will be the next focal point for buyers.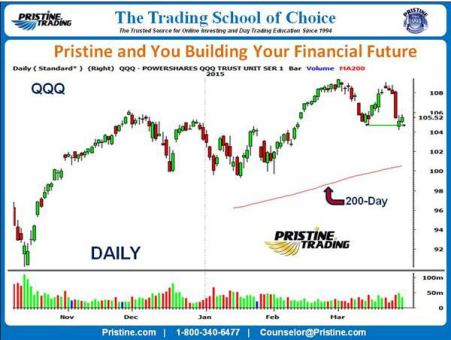 The next chart is the NASDAQ 100 shown with the ETF symbol QQQ. The pattern essentially the same with the big drop on Wednesday and stabilization near prior pivot low. However, the QQQ was able to marginally move above Thursday's high. In other words, unlike DIA and SPY that had inside days (a day that trades inside the prior day's range) QQQ made a higher high, high low on Friday.
With this pattern we will use Thursday's low for our first line in the sand that could open the door for a move down to the 200-day moving average. I would not expect that to happen in one day. Friday's high will be our first line in the sand for a possible upside move in prices. Above 107.25 – 107.50 and Wednesday's large red candle could be negated. By that I mean, the suggested continuation to the downside by that large red candle may not happen in the near future.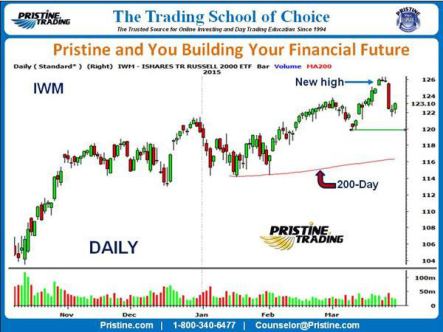 Here we have the Russell 2000 shown with the ETF symbol IWM. This index is comprised of small-cap stocks and has been showing relative strength of late and continued to last week. Notice that it made a new high on its last rally where the other indices did not. Even though it also had a large moved to the downside on Wednesday, it did not decline to its prior pivot low as the other indices did. IWM like QQQ made a higher high higher low bar on Friday.
Friday high and Thursday's low are our first reference points for resistance and support. A move above 124.25- 124.50 and Wednesday's large red candle may be negated in the short-term. Below Thursday's low. A move to the prior pivot low at 120.00 is an obvious stopping point. Below that it opens the door to the 200-day moving average. Should that be in the cards, the prior indices looked at would likely be below their 200 moving averages since they have shown relative weakness to IWM.
We'll have a lot more information next week to assess that possibility.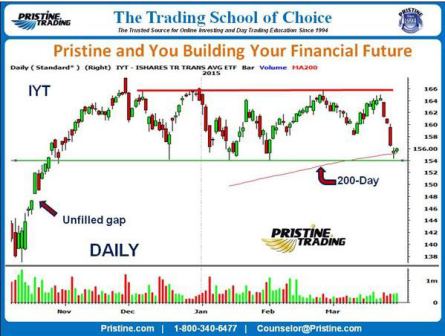 Lastly, is the Dow Jones Transports shown with the ETF symbol IYT. The Transports have underperformed this year. It is the only index of the ones viewed that did not exceed its 2014 high. The movement in a sideways range since the end of last year has allowed the 200-day moving average to move closer to current prices. The move down last week, which actually started in earnest before Wednesday in this index has IYT sitting right on its 200-day moving average as well as Major Support price support.
This index had an inside day Friday and our first reference points will be Thursday's high and low. There are no significant price reference points to the left below that low. This makes it more difficult to assess a downside target if prices do start moving lower. However, there is an unfilled gap in the 148.00 area. A move above 160.00 and the potential for significant move lower begins to diminish, but of course does not make it impossible.
I believe that next week is going to hold some excellent opportunities for day-traders. After two narrow range days in the broader markets, the odds are good that we will see a range expansion and with that greater size moves to take advantage of. Monday morning could be a little tricky as traders assess the early price action and develop a bias. For that reason, I would not be so anxious to jump in the first few minutes.
Be sure to join us for this week's After Market Lessons. If you're struggling to profit in the markets a Pristine Education is exactly what you need to change that. Email counselor@pristine.com to get more information on how Pristine can help you reach your financial goals.