The last Housing Market Review covered data reported in November for October, 2016. At that time, the iShares US Home Construction (ITB) was experiencing its first post-election pullback. I stayed focused on the strong housing data and treated the episode as a buying opportunity. Over a month later, the market is still ignoring the strong housing data in favor of hand-wringing over monetary policy and slightly higher mortgage rates. Like last month, I am preparing to take advantage of a fresh buying opportunity despite the surface temptation to conclude that it is time to get bearish on the housing sector.
Since I believe the market over-reacted to the Fed's "hawkishness" and since I believe the latest 30-day Fed Fund Futures support my assessment, I am ignoring the rate concerns as I stay focused on what should be a seasonally strong period for home builders and related stocks.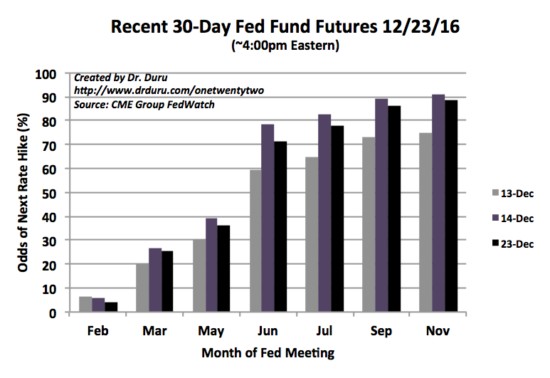 Source: CME Group FedWatch
Still, the Federal Reserve may have effectively capped housing-related trades for at least the next few months. As a result I will be as patient as possible in looking for steeper discounts on housing-related plays.
New Residential Construction (Housing Starts) – November, 2016
The downward revisions for housing starts resumed. After four straight months of downward revisions, housing starts for single-family homes received two upward revisions in a row (September and October). October's privately owned 1-unit housing starts were revised from 869,000 units to 863,000. November starts fell 4.1% month-over-month but increased 5.1% year-over-year to 828,000. The modest monthly pullback is of little concern since single-family starts achieved a new post-recession high in October.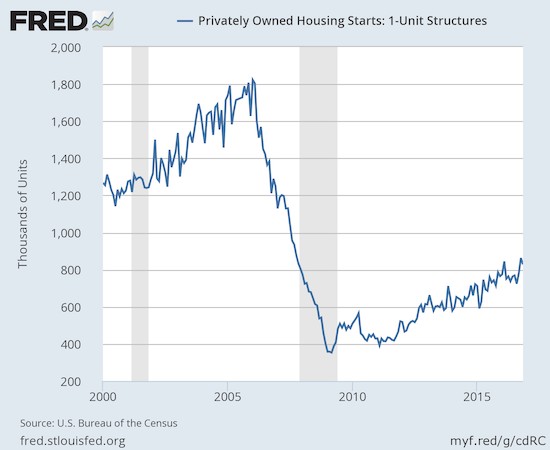 Source: US. Bureau of the Census, Privately Owned Housing Starts: 1-Unit Structures [HOUST1F], retrieved from FRED, Federal Reserve Bank of St. Louis, December 27, 2016.
Starts were mixed year-over-year across the regions: the Midwest soared 33% while the Northeast suffered the largest drop at 7.6%. The West dropped 2.7%, and the South gained 2.8%. This mixed performance ends two straight months of regional unison. The Midwest was the only region to gain month-over-month.
Existing Home Sales – November, 2016
September put existing home sales back on solid footing, and October delivered validating follow-through. November took existing home sales to a new post-recession high. The numbers were enough to motivate definitive optimism from the National Association of Realtors (NAR) which has spent most of the year wary to pessimistic…
"The healthiest job market since the Great Recession and the anticipation of some buyers to close on a home before mortgage rates accurately rose from their historically low level have combined to drive sales higher in recent months…Furthermore, it's no coincidence that home shoppers in the Northeast — where price growth has been tame all year — had the most success last month."
The seasonally adjusted annualized sales of 5.61M were down 0.7% month-over-month from a downwardly revised 5.57M in sales for October (previously 5.6M). Year-over-year sales saw an extremely impressive gain of 15.4% to notch the highest sales level since February, 2007.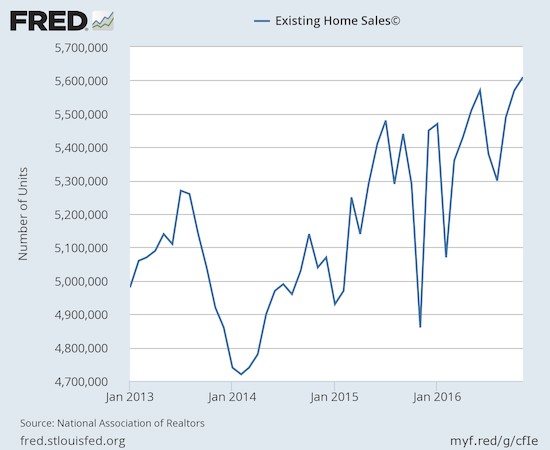 Source: National Association of Realtors, Existing Home Sales© [EXHOSLUSM495S], retrieved from FRED, Federal Reserve Bank of St. Louis, December 1, 2016.
Once again, these exceptionally strong sales results occurred even with the continuation of the on-going trends of shrinking inventory and rising median prices. The NAR complained earlier this year about these factors as impediments to the market. In the last Housing Market Review, I marveled that the NAR...
More