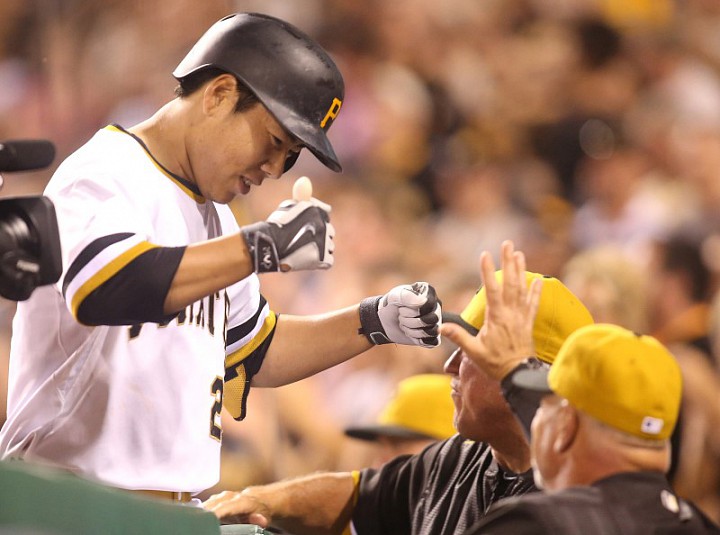 (The Sports Xchange) - Pirates manager Clint Hurdle was able to sum up Pittsburgh's win over the Los Angeles Dodgers on Sunday in one word.
"Wow."
Rookie shortstop Kang Jung-ho's three-run home run capped a nine-run seventh inning, and center fielder Andrew McCutchen homered and drove in four runs, as the Pirates rallied for a 13-6 victory to complete a sweep of the Dodgers.
The Pirates swept a three-game series from the Dodgers in Pittsburgh for the first time since May 31-June 2, 1999, at the since-demolished Three Rivers Stadium.
"This is the type of the team we are," McCutchen said. "We don't quit. We never think we're out of a game."
Kang greeted right-handed reliever Joel Peralta with his ninth homer of the season after the Pirates scored eight runs in two-thirds of an inning off righty reliever Jim Johnson (3-4).
Kang was hit by pitches in his two previous plate appearances.
"Sometimes, you've just got to put a foot down, and Jung-ho did that with the home run," Hurdle said.
McCutchen's homer came with a runner on in the fifth inning. The blast drew the Pirates within 5-3. The All-Star center fielder hit a two-run single during the big seventh inning that put Pittsburgh on top 12-5.
McCutchen is hitting .455 (15-for-33) with 13 RBIs and 12 runs in his past 10...
More