With Bernanke leaving as Chairman of the Federal Reserve there's lots of reflection on how well he did his job. Of course, the analysis can't be complete until we are several years into the future and we see exactly how the QE policies that Bernanke will be known for turn out.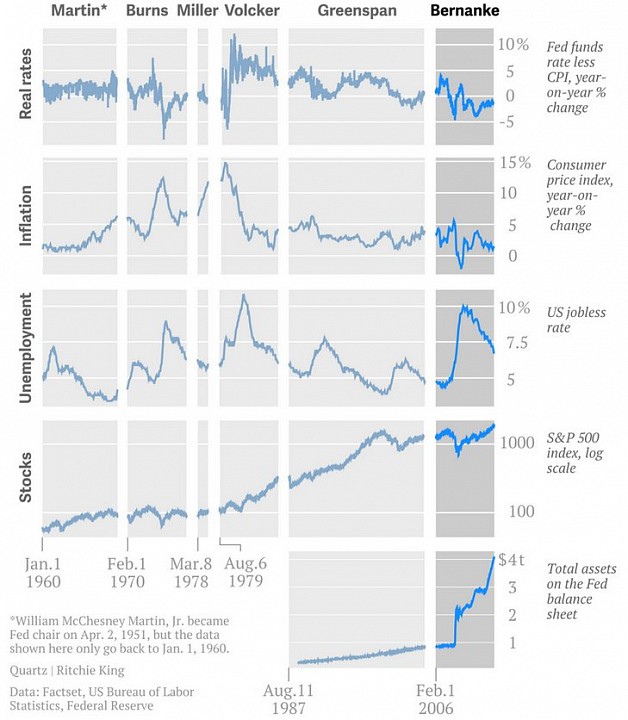 I like this graphic though, as it gives us some historical context in terms of how Bernanke did in comparison to Greenspan, Volcker, Miller, Burns and Martin, his last 5 predecessors.
What jumps out of course is that only really Volcker had to deal with an unemployment problem as difficult as Bernanke. While Volcker was known for squashing high inflation, Bernanke will be known for trying to stimulate inflation by expanding the Fed's balance sheet in an attempt to make sure the country didn't slip into a deflationary spiral similar to the Great Depression (not shown here). Prices still remain pretty low however, despite the balance sheet rising from $1 trillion to $4 trillion under his tenure.
My judgement is that Bernanke did a good job of realizing some of the effects of the financial crisis (the huge deleveraging cycle) and took decive action to try and stem the tide, but the biggest impact of his policies were felt by those that were holders of financial capital (mainly stocks and bonds) which will mean he leaves an uneven legacy.