Four months ago, in another failed attempt to boost confidence in the Eurozone and stimulate lending (failed because three months later the ECB finally launched its own QE), the ECB conducted its latest stress test, which as we explicitly pointed out was an utter joke as even its "worst-case" scenario did not simulate a deflationary scenario. Two months later Europe was in outright deflation.
It was initially unclear just how comparably laughable the Fed's own stress test assumptions were, but refuting rumors that Deutsche and Santander would fail the Fed's stress test (perhaps because former FDIC head and current Santander head Sheila Bair wasn't too happy about her bank being one of the failed ones), moments ago the Fed released the results of the 2015 Fed stress test, and.... it seems there was no need to provide a sacrificial lamb as with stocks at record highs. In fact everything is awesome!
FED STRESS TEST SHOWS ALL 31 BANKS EXCEED MINIMUM REQUIREMENTS
As we have previously explained, of course, the results are completely meaningless, as the Fed neither then, nor now, has any methodology for how to calculate capital in case of the same kind of counterparty failure chain as happened during Lehman, and when no amount of capital would have been sufficient to preserve the financial sector. Like we said: theatrical spectacle. But at least everyone's confidence has been boosted. So Buy stawks, and build your paper wealth!
So to summarize the history of US bank "failure":
2013 Fails - Citi, SunTRust, MetLife
2014 Fails - Zions
2015 Fails - None, nada, zip...
US Financial stocks have been considerably more exuberant ahead of this report than financial credit...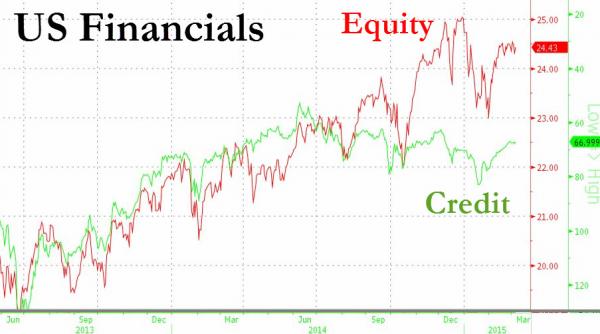 We will see how they react to these results...
A reminder of what last year's stress test scenarios looked like... in the baseline stress test scenario, the Dow Jones "plunges" to 11.4K in Q3 2014, and then somehow surges back to all time highs by Q4 2016! Does the Fed understand the word Stress?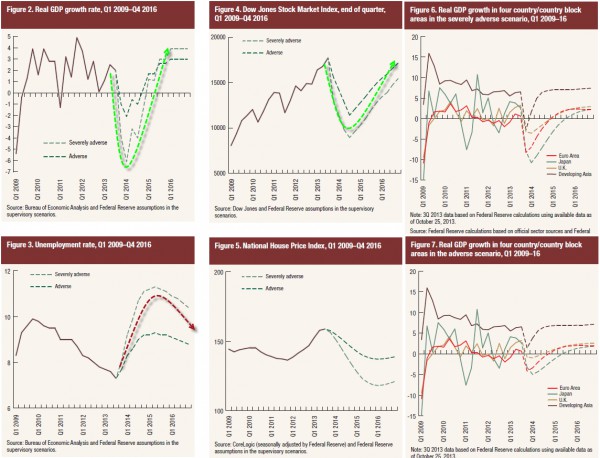 As Bloomberg reports,
The Federal Reserve said all 31 big banks subjected to a stress test have sufficient capital to absorb losses during a sharp and prolonged economic downturn.

 

It's the first time since the central bank started stress tests in 2009 that no firm fell below any of the main capital thresholds. Goldman Sachs Group Inc. surpassed the 8 percent minimum for total risk-based capital by 0.1 percentage point, potentially restricting its room to return capital to shareholders.

 

The annual tests, using hypothetical scenarios that are not forecasts, are the cornerstone of the Fed's efforts to prevent a repeat of the 2008 financial crisis and to gauge the ability of banks to withstand economic turmoil.

 

The largest U.S.-based banks "continue to build their capital levels and to strengthen their ability to lend to households and businesses during a period marked by severe recession and financial market volatility," the Fed said in a statement Thursday.

 

...

 

Bank of America Corp. was the only bank among the six largest to improve in every capital measure from its performance in last year's test. Wells Fargo & Co. surpassed every minimum by at least 2 percentage points. Morgan Stanley's ratio in three capital measures fell in a severely adverse scenario to within 1 percentage point of the required minimum.

 

Loan-loss estimates for the 31 banks totaled $490 billion under a hypothetical severely adverse scenario, down from $501 billion for the 30 banks tested last year. The losses include a $102.7 billion hit to trading. JPMorgan Chase & Co. would suffer the most from trading losses, estimated at $23.6 billion.
The scenarios are mind-blowing...
The adverse scenario assumes a weakening in global economic activity while domestic inflation spurs an increase in Treasury yields. Short-term rates would reach more than 2.5 percent in 2015 and 5.25 percent in 2017.

 

Banks also had to account for a mild, three-quarter U.S. recession starting in the last quarter of 2014, during which time real gross domestic product falls half a percent and unemployment rises above 7 percent, going on to reach 8 percent by the end of 2016.

 

Under the severely adverse conditions, stocks fall by 60 percent by the fourth quarter of 2015 and housing prices drop by about 25 percent. Unemployment peaks at 10 percent, gross domestic product declines by 4.5 percent and the price of oil rises to $110 per barrel. Long-term Treasury yields fall to 1 percent in the fourth quarter of 2014 and then rise slowly.
*  *  *
Full Stress-Test reports below...