From my previous look at
USD/JPY on Monday 2/17/2014
, I noted a bullish idea based on the weekly and daily charts. The 2/17 day candle was a bullish one and one that adds to the case for a buy. Here are a few more points and a look at the 4H time-frame:
The Set Up:
Last week's highs around 102.70 worked as support so far in the 2/17 session, pushing back a strong bullish attempt yesterday. Intra-day bullish bias is over, and there might be some near-term bearish bias as the market works off the overbought condition shown by the 4H stochastic.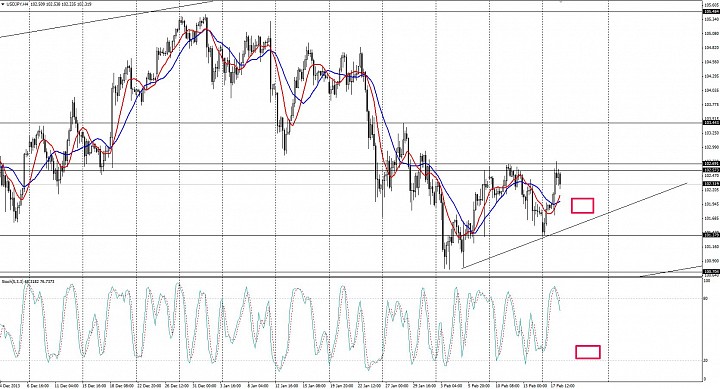 (4H USD/JPY chart: click to enlarge)
However, if yesterday's low around 101.40 convinces you that a bullish trend can be developing, we can consider buying on a dip. We should still note that a break above 102.70 is required to open up the bullish bias. Seeing that there is resistance there gives me more confidence that a break can carry the USD/JPY up back towards this year's highs just above 105.
The Trade Idea:
My idea is to wait for some intra-session pullback that brings the 4H stochastic back toward 20, and price back toward 102 give or take some pips. I would put a stop below the 101.37 low because a break of that suggests the market is flat, with a prevailing downtrend in the 4H chart. If the market is going to be that way ahead of the FOMC. I would want to wait until after the event risk.
Let's see how this works out.