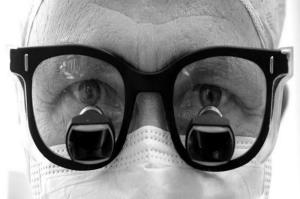 As sales of blockbuster drug Acthar begins to crack Mallinckrodt (MNK) is in desperate need of a new narrative. Management is trying to sell investors on the idea that it can generate new products from its R&D pipeline. In the meantime it is also looking to diversify its revenue and earnings stream via acquisition. Last week Mallinckrodt announced the $1.2 billion acquisition of Sucampo Pharmaceuticals (SCMP). Sucampo's primary product, Amitiza (lubiprostone), treats chronic idiopathic constipation (CIC) in adults, irritable bowel syndrome with constipation (IBS-C) in adult women and opioid-induced constipation (OIC) in adults suffering from chronic non-cancer related pain.
Sucampo had Q3 revenue of $61 million and EBITDA of $29 million. The transaction is attractively priced at about 9.2x run-rate EBITDA. The deal is all cash and Mallinckrodt will likely have to incur over $800 million of new debt to fund the acquisition. Therein lies the rub.
Moody's Puts Mallinckrodt On Watch For A Downgrade
Prior to the deal Mallinckrodt's debt/run-rate EBITDA exceeded 4x. New debt to fund the transaction will make the company even more highly-indebted during a time when Mallinckrodt's core business is appears to be weakening. Moody's recently put the company's debt under review for a downgrade:
Moody's Investors Service ("Moody's") placed the ratings of Mallinckrodt International Finance SA ("Mallinckrodt"), including the Ba3 Corporate Family Rating and Ba3-PD Probability of Default Rating, under review for downgrade. The SGL-2 Speculative Grade Liquidity Rating was affirmed.

This action follows today's announcement that Mallinckrodt will acquire Sucampo Pharmaceuticals (unrated) for a total purchase price of $1.2 billion. The deal will be funded with a mix of bank revolver borrowings and term loan debt and/or cash ...

The acquisition of Sucampo increases Mallinckrodt's gross debt/EBITDA to around 4.9 times on a pro forma basis from around 4.4 times (LTM September 30, 2017) and reduces its financial flexibility. Mallinckrodt also faces earnings pressure in its specialty generics segment and sales growth headwinds in 2018 on its largest drug, Acthar.
Sucampo also supplements Mallinckrodt's late stage drug pipeline. It is in phase three clinical trials for lubiprostone for pediatric functional constipation, and for a drug to treat familial adenomatous polyposis ("FAP"). There are currently no approved treatments for FAP. The timing of the approval of new drugs from Sucampo's pipeline versus the expected diminution of Acthar (about 39% of revenue) and pain-related drugs (18% of revenue) could drive the narrative going forward.
MNK is off over 25% since its Q3 2017 earnings revealed a decline in Acthar orders. Management cut Q3 R&D and SG&A costs to a combined 33% of total revenue from 38% in the year earlier period. This helped keep EBITDA margins from free falling. If top line growth continues to fall I expect EBITDA margins to break support by Q1 2018 regardless of cost cuts. Declining EBITDA margins or a ratings downgrade could be the catalyst to send MNK into the single digits.
Mallinckrodt's Margin For Error Is Slim
Going forward Mallinckrodt's margin for error will be slim. I estimate Q3 debt/run-rate EBITDA for Mallinckrodt and Sucampo was 2.5x and 4.3x respectively. Mallinckrodt had $372 million of cash on hand. I assumed it would have to raise $828 million in additional debt to fund the $1.2 billion acquisition. The proforma debt of $7.0 billion would be about 4.8x combined run-rate EBITDA.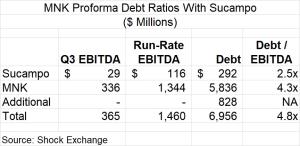 Mallinckrodt's Q3 revenue fell 11% Y/Y, and will likely fall again in Q4. Any slide in its EBITDA could cause its credit metrics to deteriorate. If debt/run-rate EBITDA meets or exceeds 5x then it could force Moody's hand. A downgrade could be disastrous. It could hurt sentiment and raise the company's borrowing costs on any additional debt needed to fund future acquisitions.
More