Brent crude's biggest slump in two years is coming to an end as the most timely measure of supply and demand signals a glut is clearing, Bank of America Corp. says.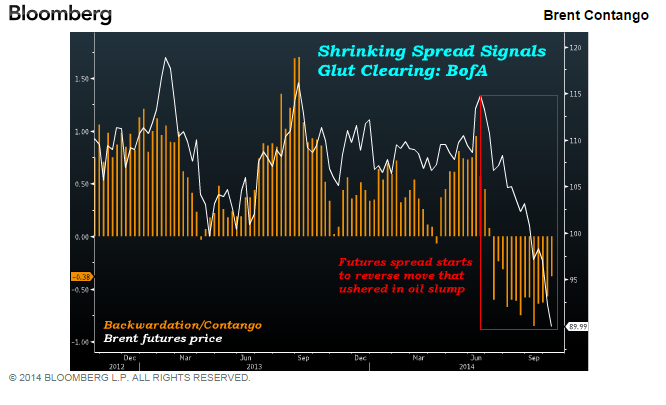 The CHART OF THE DAY shows that Brent, the world's most-traded oil contract, began to plunge in June as the front-month futures contract erased a premium to the second month and started trading for a discount, indicating a short-term surplus. That discount is contracting now, reflecting that the excess is diminishing and that the price rout should dissipate, the bank estimates.
"The fact that time-spreads are starting to narrow is an indicator that the supply overhang is starting to clear," Francisco Blanch, head of commodities research at Bank of America, said by phone from New York on Oct. 7. "The downside is going to be somewhat limited, unless the macro turns a lot worse, and there aren't a lot of reasons to believe the macro is going to turn a lot worse."
Brent futures fell as low as $88.11 a barrel on Oct. 10, the weakest since Dec. 1, 2010, amid speculation that Saudi Arabia will refrain from supply cuts needed to drain an excess. The market remains oversupplied for now, and further price losses are possible, according to Blanch. Still, global demand is unlikely to deteriorate significantly and Saudi Arabia will curb output if necessary, he said.
The spread between the price of Brent oil futures and physical cargoes of the grade is also shrinking, indicating that the cost of storing crude is falling as traders have less need to stockpile excess supplies, Blanch said.
While earlier supplies remain cheaper than later deliveries for several months into the future, a pattern known as contango, the relationship between prices at the front of oil's forward curve is the most important for determining supply and demand, said Blanch.