The Boeing Company BA announced that it has secured a $23.3 million contract from the U.S. Air Force for providing support services to the Minuteman III weapon system. Per the contract, the company will provide operations and maintenance, testing and technical data delivery support to the Minuteman III.
Work related to the contract will be carried out at the Little Mountain Test Facility situated in Ogden, UT. Operations are expected to be concluded by Sep 30, 2023.
About Minuteman III weapon system
Boeing has been one of the primary integrator for the Minuteman Intercontinental Ballistic Missile (ICBM) system since 1958. So far, the company has created, tested and deployed more than 1,800 Minuteman-series missiles for the Air Force.
Since its inception in 1958, there have been a number of upgrades to the Minuteman III weapon system. The Minuteman system has been developed to meet new challenges and undertake new missions. The latest version – Minuteman III – is a part of the U.S. Strategic Command.
Strong Backlog
Boeing has earned the position of one of the largest aerospace and defense contractors in the world in terms of revenue, orders and deliveries. It is a competitor to industry giants like Northrop Grumman Corporation NOC, Lockheed Martin Corporation LMT and Huntington Ingalls Industries, Inc HII etc. The company receives regular orders from the Department of Defense (DoD).
Backlog at the end of the second quarter was up to $482.2 billion from $479.5 billion at the end of first quarter. Reported backlog included $27 billion of net orders during the quarter.
During the quarter, the company won a massive $1.1 billion, from the Missile Defense Agency ("MDA") to procure Redesigned Kill Vehicle ("RKV") development among all the other ones.
Defense Scenario Helping in Growth
Recently, the U.S. Senate passed fiscal 2018 defense policy bill worth $700 billion, which was proposed in July 2017. This bill provides about $640 billion for Pentagon's main operations like buying weapons and paying the troops. The rest $60 billion for Overseas Contingency Operations will be utilized to fund the conflicts in Afghanistan, Iraq, Syria and elsewhere. Not just the United States, majority of nations in the world who are fighting against internal and external enemies are working hard to strengthen their defense system.
All the above reasons put together will help Boeing and its peers in securing more contracts from different verticals of U.S. Defense and also from other allies of the United States.
Price Movement
Shares of Boeing have rallied 93.7% over the last 12 months, outperforming the industry's gain of 43.0%.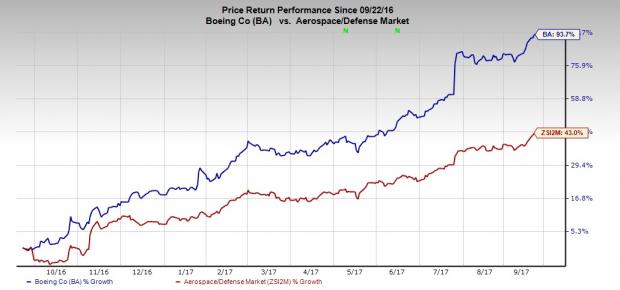 This outperformance could be attributed to the company's strong balance sheet and cash flows which have been providing financial flexibility in matters of incremental dividend, ongoing share repurchases and earnings accretive acquisitions.
Zacks Rank
Boeing currently carries a Zacks Rank #2 (Buy). You can see the complete list of today's Zacks #1 Rank (Strong Buy) stocks here.
Will You Make a Fortune on the Shift to Electric Cars?
Here's another stock idea to consider. Much like petroleum 150 years ago, lithium power may soon shake the world, creating millionaires and reshaping geo-politics. Soon electric vehicles (EVs) may be cheaper than gas guzzlers. Some are already reaching 265 miles on a single charge.
With battery prices plummeting and charging stations set to multiply, one company stands out as the #1 stock to buy according to Zacks research.
It's not the one you think.
Want the latest recommendations from Zacks Investment Research? Today, you can download 7 Best Stocks for the Next 30 Days.
Click to get this free report
Northrop Grumman Corporation (NOC): Free Stock Analysis Report
Boeing Company (The) (BA): Free Stock Analysis Report
Lockheed Martin Corporation (LMT): Free Stock Analysis Report
Huntington Ingalls Industries, Inc. (HII): Free Stock Analysis Report
To read this article on Zacks.com click here.
Zacks Investment Research