A busy night in AsiaPac before China even opens. Vietnam had a failed bond auction, Japanese data was mixed (retail sales good, household spending bad, CPI just right), Moody's downgrades China growth (surprise!), China re-blames US for global market rout, and then the big one hits - China's bailout fund needs more money (applies for more loans from banks) - in other words - The PBOC just got a margin call. China margin debt balance fell for 8th straight day (although the short-selling balance picked up to 1-week highs). China unveiled some economic reforms - lifting tax exemption and foreign real estate investment rules. PBOC fixesds the Yuan 0.15% stronger - most since March, but even with last night's epic intervention, SHCOMP looks set for its worst week since Lehman.
Vietnam is in trouble...
*VIETNAM FAILS TO SELL ANY OF 3T DONG BONDS OFFERED AUG. 27
The first of many failed auctions for EM we suspect.
Japanese data was mixed,..
*JAPAN JULY OVERALL CONSUMER PRICES RISE 0.2% Y/Y (in line)
*JAPAN JULY RETAIL SALES RISE 1.6% Y/Y (better than expedted)
*JAPAN JULY HOUSEHOLD SPENDING FELL 0.2% Y/Y (much worse than expedted rise)
So Goldilocks - enough to keep BoJ in the game (as Reuters reports)
Japan's core consumer inflation was flat in the year to July and household spending unexpectedly fell, casting deeper doubt on the central bank's forecast that a solid economic recovery will help accelerate inflation to its 2 percent target.

 

While the Bank of Japan has said it will look through the effect of slumping oil costs on inflation, the weak figures will keep it under pressure to expand its massive stimulus programme.

 

Separate data showed household spending fell 0.2 percent in the year to July, confounding a median market forecast for a 1.3 percent rise and reinforcing concerns about the strength of Japan's recovery.
And then there's China...
Before we get started, we thought the following comparison of two stock indices today was in order... one is from a totally manipulated market that proclaims itself 'open' and 'free' with nothing to fear because "the underlying economy is doing great"... and the other is China...
Notice how the ramp was almost identical in style also - an initial burst, modst pull back, then big push, then rest, then final surge into close
But then again we already explained how past is prologue in this Nasdaq vs SHCOMP world.
And remember - it's not China's fault...
*CHINA STOCK ROUT NOT THE REASON FOR GLOBAL MKT PLUNGE:SEC. NEWS
And then Moody's did the unpossible...
*MOODY'S CUTS CHINA '16 GDP GROWTH FORECAST TO 6.3% FROM 6.5%
But the biggest news is...
*CHINA'S RESCUE FUND APPLIES FOR MORE LOANS FROM BANKS: CAIXIN
Which means the bailout fund needs a bailout after blowing its load last night.
Deleveraging continues:
*SHANGHAI MARGIN DEBT BALANCE FALLS FOR EIGHTH STRAIGHT DAY
*SHANGHAI MARGIN DEBT BALANCE FALLS TO LOWEST IN EIGHT MONTHS
Though we note that the short-selling balance rose to one-week highs.
Even with last night's epic intervention, Chinese stocks look set for the worst week since Lehman...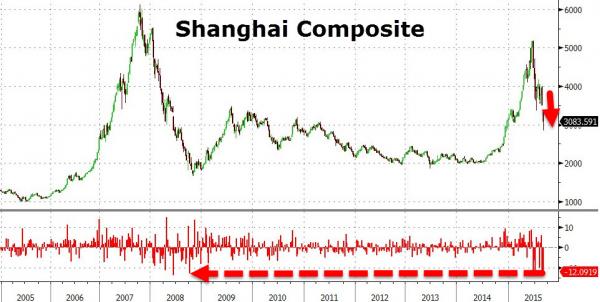 Although they are up at the open...extending gains from the US session...
*FTSE CHINA A50 SEPT. FUTURES RISE 1.7%
But are fading off early highs.
And in what appears another reform aimed at improving the economy, China lifts some restrictions...
China's central tax authority has published a list of tax breaks for which qualifying businesses and other enterprises will no longer be required to seek prior approval to enjoy.
And...
The mainland has relaxed foreign investment restrictions in its once-sizzling real estate market as worries mount on capital flight in the wake of a weakening yuan and slowing economic growth.

 

Six governing ministries, including the central bank and the commerce ministry, issued a statement scrapping previous rules that required foreign property investors to pay the full amount of registered capital for their mainland entities to mainland authorities before borrowing any loans or applying for foreign exchange transactions.

 

"The move seems to be aimed at discouraging capital outflow after the devaluation of the yuan," said Alan Chiang, head of residential in the Greater China region for global property consultancy DTZ.
Which we are sure will not be taken advantage of.
Finally The Yuan - which remember is not being devalued - was fixed 0.15% stronger...
*CHINA SETS YUAN REFERENCE RATE AT 6.3986 AGAINST U.S. DOLLAR
*CHINA RAISES YUAN FIXING MOST SINCE MARCH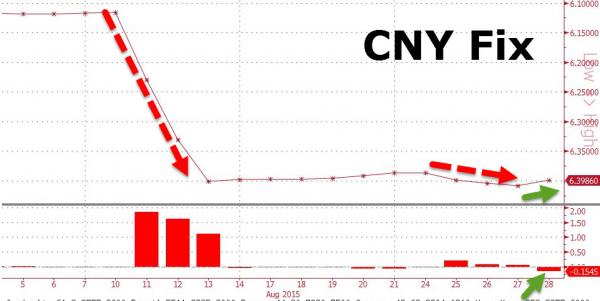 Charts: Bloomberg