After yesterday's dramatic late day market rout catalyzed by the tumble in the biotech sector in general, and Valeant in particular, and foreseen in its entirety by Gartman who went bullish just hours before, this morning US equity futures and European stocks have recouped some losses on the recursive, and traditional, hope that Mario Draghi will say something to push risk higher when he speaks in 2 hours at the ECB's press conference in Malta. And yet, just like Yellen a month ago, Draghi faces the paradox of reflexivity that after years of being ignored, is the "new thing" in town: how does he intervene and demonstrate he is readier than ever to set up stimulus, without panicking investors over euro area's health.
Francesco Papadia, chairman of Prime Collaterised Securities and a former director general of market operations at the ECB, summarized it best: "The ECB seems more worried about the economy yet less inclined to act; markets are more confident in the economy yet expect something will be done. For Draghi, it'll be difficult to even hint that something was discussed because it would send two messages: 'Good, they're doing something, and wait, the situation is worse than we thought.'"
As a result, threading the needle correctly will be more unpleasant for the former Goldman managing director than even sustaining another unexpected confetti shower.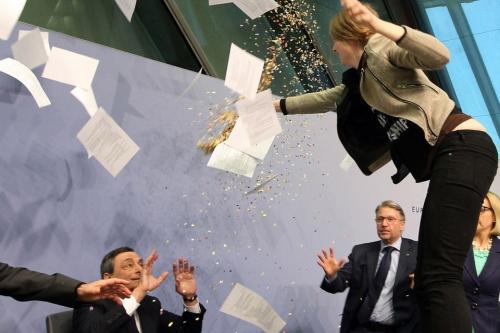 So while we await the ECB's announcement, and with the rest of the overnight session quiet, here is how markets did since the start of trading this morning.
Asian equity markets traded mostly lower following the softer close on Wall St. with price action subdued in continuation of the quiet week. ASX 200 (+0.3%) traded relatively flat with losses offset by gains in the energy sector after Santos (+16%) rejected a takeover proposal, while Nikkei 225 (-0.6%) endured minor losses as JPY strengthened. Shanghai Comp. (+1.5%) found respite from yesterday's late slump amid an improvement in business sentiment coupled with the PBoC conducting a 32nd consecutive injection into the interbank market. Finally, 10yr JGBs closed the 1st half of trade higher amid the cautious tone in markets.
In European stocks price action has failed to find a sustained trend (Euro Stoxx: 0.0%) as market participants wait on the side lines ahead of the aforementioned ECB meeting, where many will be looking out for any clues as to the possibility, timing and details of any possible expansion to the quantitative easing programme. The SMI is the notable outperformer (+0.4%), bolstered by Roche (+1.2%) after their pre-market earnings, whilst elsewhere Daimler (+0.2%) also released their earnings today, to see initial softness in the shares on the back of reducing view of 2015 global vehicle market, however paring these losses throughout the session.
In FX, the notable event of the European morning was the release of the UK retail sales data, which saw GBP/USD outperform to reach its highest level for over a month. The UK retail sales data (Inc Auto Fuel Y/Y 6.50% vs. Exp. 4.80%) is set to boost Q3 GDP by 0.1 percentage point and as such saw immediate strength in GBP on the back of the release, however with GBP/USD failing to holding above the 100 DMA at 1.5495. While elsewhere in FX markets, EUR initially underperformed as European participants got to their desks amid no new fundamental catalyst, with some desks attributing the move to positioning ahead of the ECB meeting today , however EUR/USD found support above the 1.1300 handle as RANsquawk sources noted bids in the pair at 1.1300 (unconfirmed) with around 2.3bIn worth of expiring options set to roll of at the 10am NY cut.
Of note, AUD saw immediate downside after Commonwealth Bank raised interest rates which puts pressure on the RBA to cut rates at the next meeting, however the move has since pared heading into the North American open.
Fixed income markets remain subdued ahead of the ECB decision and press conference, with volumes remaining light in Bunds, while Gilts underperform this morning on the back of the higher than expected UK retail sales.
In terms of the commodity complex, there saw a minor spike higher in precious metals as European participants got to their desks amid no new fundamental catalysts with prices breaking out of their tight overnight ranges, while WTI and Brent continue to trade in positive territory, heading into the NYMEX pit open firmly above the USD 45.00 and USD 48.00 handles respectively. Looking ahead, today sees the release of the EIA NatGas storage change (Exp. 87bcf).
Looking ahead, as well as the aforementioned ECB release, today's highlights include weekly US job numbers and existing home sales. With the peak of earnings season upon us, today we see another deluge of Q3 results, with the notable highlights including: Alphabet (Google), Microsoft, AT&T, McDonalds, 3M, Caterpillar, Eli Lilly, Amazon, and Perrigo.
Market Wrap
S&P 500 futures up 0.3% to 2014
Stoxx 600 up less than 0.1% to 363
FTSE 100 down 0.1% to 6340
DAX up 0.3% to 10265
MSCI Asia Pacific down 0.3% to 134
Nikkei 225 down 0.6% to 18436
Hang Seng down 0.6% to 22845
Shanghai Composite up 1.4% to 3369
S&P/ASX 200 up 0.3% to 5264
US 10-yr yield up 1bp to 2.04%
Dollar Index up 0.1% to 95.13
WTI Crude futures up 1% to $45.65
Brent Futures up 1% to $48.33
Gold spot up less than 0.1% to $1,167
Silver spot up 0.4% to $15.77
German 10Yr yield up less than 1bp to 0.57%
Italian 10Yr yield up 2bps to 1.62%
Spanish 10Yr yield up 2bps to 1.76%
Bulletin Headline summary from Bloomberg and RanSquawk

Price action has failed to find a sustained trend as market participants wait on the side lines ahead of the aforementioned ECB meeting
Looking ahead, as well as the ECB release, today's highlights include weekly US job numbers, existing home sales, EIA NatGas storage change and earnings from the likes of Alphabet, Microsoft and Amazon
ECB Haunted by Paradox as Draghi Weighs Risk of QE Signaling: Challenge on Thursday is to show that he's readier than ever to set up stimulus, without panicking investors over euro area's health
Ryan Gets Key GOP Group's Support for U.S. House Speaker Job: ~2/3 of House Freedom Caucus backed Ryan in a vote Wednesday night, less than the 80% needed to make a full endorsement
China's leaders are poised to announce a 2020 deadline to dismantle currency controls that have kept the world's second-largest economy from fully integrating with global financial markets

China is making more money available to local governments for financing infrastructure projects this year amid concerns about flagging economic growth, according to people familiar with the matter
China has for the second time this month raised the possibility of taxing forex transactions as record capital outflows from the world's second-largest economy put pressure on the yuan

China Said to Consider Consolidation Among Big 3 Airlines: Plan to merge the cargo ops of Air China, China Southern Airlines and China Eastern Airlines said to have been circulated among regulators for their opinions
Volkswagen AG's worldwide repair of 11 million diesel vehicles to bring their emissions systems into compliance with pollution regulations is shaping up to be one of the most complex and costly fixes in automotive history as the probe widens
Neuberger Berman says investors in speculative-grade companies are getting sufficient compensation for U.S. defaults that it expects to expand below historical averages
Japan's biggest life insurers face hurdles wherever they seek returns in the fiscal second half, as Bank of Japan debt buying depresses local yields, the yen shows signs of strength and currency hedging costs soar
Fiat CEO Sees More Need for Consolidation After VW Scandal: Fiat Chrysler will play a role in consolidation and still sees GM as its best-suited partner, CEO told Bloomberg
Ukraine Sees Signs Truce Can Last as Putin Juggles War and Peace: If accord holds, Ukraine will meet one of Russia's key demands -- passing constitutional changes giving regions more autonomy -- but probably not until Dec.
Other post-mkt news:

Greenlight Takes Long Positions KORS, UIL; Reduces MU: Letter
U.S. Said to Investigate Venezuelan Oil Giant PDVSA: WSJ
S&P: Post Properties Set to Join S&P Midcap 400
Citrix Systems Boosts 2015 EPS View; Names Calderoni Interim ** AmEx Says It Hasn't Seen Lower Earnings From US Costco
LVS 3Q Adj. EPS, Property Ebitda Top Ests.; Raises Dividend
DB's Jim Reid completes the overnight wrap
Welcome to ECB day which now only occurs every 6 weeks instead of monthly. A recent move that is eminently sensible but when you're in the business of trying to find something interesting to say on a daily basis it's a pain as it reduces the amount of newsflow! I may be forced to get the strategist's union on the ECB for restraint of trade. Given I've got an increasing amount of mouths to feed at home I'll resist downing tools in protest. Anyway, today's meeting will likely be relatively uneventful given the recent stability in markets and the 'ok' data in the Euro area including this week's ECB bank lending survey. The house view is that the ECB will announce a 6 month extension to QE at the December 3rd meeting with a deposit rate cut not ruled out. As we discussed earlier in the week our economists think Mario Draghi has a communications challenge today. He will want to reiterate the dovish message of an ECB "ready, willing and capable" of action. At the same time, the ECB does not want the market pricing a policy outcome that is not justified by what they see as current fundamentals. However for us there is no getting away from the fact that at the moment the ECB look set to continue to miss their inflation goals as far as the eye can see so even with stability in markets they will likely have to address this before too long. So don't expect any action today but look for clues as to what future easing will look like. Of note might be any answers Draghi gives to whether the depo rate is at the lower bound. This may give us clues as to the composition of future easing.
We noted in yesterday's EMR that outside of Japan, there wasn't a whole lot of direction in Asian equity markets yesterday. Well that swiftly changed after we went to print as Chinese bourses tumbled, the Shanghai Comp eventually closing down over 3% (including a 5% high-to-low swing) and Shenzhen finishing nearly 6% lower as small caps led the huge retreat despite minimal newsflow. This morning has seen the Shenzhen (+1.98%) in particular bounce back, while the Shanghai Comp (+0.24%) has seen only a very modest move higher. There was some better news on the data front where the October MNI business indicator for China rose 4.3pts versus September to 55.6, the percentage jump (+8.4%) the largest since March 2011. This supports the DB view that China data will soon stabilise.
Elsewhere this morning, the Nikkei (-0.79%) is down following yesterday's gains while the Hang Seng (-0.92%) and Kospi (-1.01%) are also lower, the latter in particular suffering from a steep fall from Samsung after a disappointing earnings report this morning. In the credit space Asia and Australia credit indices are a touch wider this morning.
Despite a modest recovery this morning, it's been a rough week for Oil markets so far. Yesterday WTI (-1.77%) tumbled back below $46 after the latest EIA data showed stockpiles in the US were up by 8m barrels last week, far exceeding expectations of a rise of 3.75m. That's seen WTI fall over 5% this week so far and to the lowest closing level since October 1st having briefly passed $51 just 13 days ago. It was much the same for Brent which closed -1.77% yesterday, breaking $48 to the downside where it's not closed below since August 26th.
Those moves in Oil yesterday helped support a decent sell-off in energy stocks which weighed on US equities in particular. A late swing down saw the S&P 500 close -0.58%, while the Dow (-0.28%) and Nasdaq (-0.84%) also retreated in the last hour of trading. Prior to this it had been a pretty choppy session across the pond. With little macro news to feed off, some big swings in healthcare stocks in particular, coupled with some better than expected earnings saw the S&P 500 cross between gains and losses 14 times during the session.
Much of this attention was placed on US drug developer and distributor Valeant. The company's share price plummeted as much as 40% intraday on the back of a negative broker report raising questions around the drugmaker's inventory accounting treatment of drug sales. The company later denied the allegation after the report suggested 'is this Enron part Deux?'. After trading in the shares was halted at various points in the day, the stock pared a decent amount of the initial leg lower, finishing the day -19% down at the close after a hedge fund run by William Ackman - also one of the largest shareholders - purchased an additional 2m shares. Valeant's bonds were also heavy hit on the back of the report. Its 2025 USD bonds closed the day down 7pts in cash price to around 88.5c, paring back slightly after initially plunging as much 10pts.
Those moves caused something of a ripple effect through healthcare stocks with the likes of Endo (-13%) and Mallinckrodt (-6%) also coming under downward pressure following the report. The S&P 500 healthcare index did tumble as much as -2.5% and the Nasdaq Biotech index hit an intraday low of -3.5% before both indices recovered slightly into the close (but still finished nearly a percent lower).
Earnings reports yesterday generally did their best to help offset at least some of the pain triggered by the slide in oil and volatility in the healthcare space. Of the 32 S&P 500 companies to have reported yesterday, 24 (75%) reported an earnings beat (with 2 in-line) and 18 (56%) notched up a beat in revenues relative to analyst expectations. That's a bit better than the overall numbers for earnings season so far. With the count at 118 companies, 75% have beat at the profit line and 47% at the top line. In fact if we go back and look at the last two quarterly earnings seasons in the US, in Q2 the proportion of beats at earnings and revenue respectively was 75% and 49%, while in Q1 this was 73% and 48%. So a similar trend this quarter to what we've seen in the two previous quarters even if the raw numbers are weaker due to in particular the global slowdown and stronger dollar. Yesterday's positive reports came out of Boeing and General Motors (where we saw some evidence of resilience in China in particular), while after the closing bell EBay put out Q3 numbers a touch ahead of expectations and raised its full year forecast sending its share price up 10% in extended trading as investor fears of some post PayPal teething worries were allayed somewhat.
Closer to home yesterday, it was a slightly more mixed session across European equities. The Stoxx 600 (-0.01%) closed pretty much flat and has been stuck in a 10 point range now since October 2nd. The DAX (+0.89%) extended its move higher however, while Italian equities were the notable underperformer with the FTSE MIB down -0.44%. Earnings season is still yet to have picked up pace in Europe. Yesterday though it was Credit Suisse's turn to deliver some disappointing earnings in the bank space, also announcing a capital raising and a divisional reorganisation.
Before we run over today's calendar, US politics is starting to attract a few headlines again with the US debt ceiling deadline creeping up on November 3rd. Yesterday US Treasury Secretary Lew said that he is worried that last-minute brinkmanship could cause an 'accident' and that this 'deadline is very real'. According to Bloomberg, House Republicans were said to have met behind closed-doors yesterdays to discuss the options around increasing the debt limit, while the FT is out suggesting that a potential positive outcome is being muddled by the current search for a new speaker in the House. So one to watch with the danger being that we've got a bit complacent given we've feared this before. In the end its become a case of crying wolf as a compromise has always been reached even after a shutdown.
Looking at the day ahead now, data wise first thing this morning in Europe we've got various French confidence indicators for October followed closely by UK retail sales data for September. The aforementioned ECB decision is due at 12.45pm BST with Draghi due to speak at 1.30pm BST. In the US this afternoon there's a lot of data scheduled and we kick off with the Chicago Fed national activity index and initial jobless claims data. This is closely followed the FHFA house price index before we get existing home sales, the Conference Board leading index and finally the Kansas City Fed manufacturing activity read. Meanwhile it's another bumper day for earnings with 46 S&P 500 companies due to report. Amazon, AT&T and Microsoft are the highlights from the tech names due to report, while we'll also hear from Caterpillar and McDonalds.