On Friday Virtu Financial Inc said the company generated $723.05M in revenues in 2014, up from $664.50 in 2013. In an updated S-1 Filing with SEC on Friday the firm also disclosed plans offer shares to the public for a second time.  Virtu intends to list its Class A shares on NASDAQ under the ticker "VIRT".
Recall earlier in the week BATS Global Markets said former Virtu executive Chris Concannon, who is BATS President, is expected to be promoted to CEO this summer, ahead of a rumored IPO.  BATS will list on NYSE or Nasdaq instead of on its own exchange which is very telling that BATS doesn't trust itself to launch orderly trading in its own stock.
BATS acquired Direct Edge in 2014 amid fallout from Haim Bodek's publication of special order-types and an on air disaster by Direct Edge William O'brien (he could not remember if Direct Edge used the SIP or Direct Data Feeds to match trading orders in its system, NYAG forced him to correct his inevitable error) following public outcry after Michael Lewis' Flash Boys book.
Many observers sense some fishy dealings with these exchanges, especially when considering the revelation in the most recent Virtu S-1 that the market maker continues to perform to near perfection, reporting 1 day of trading losses in over 5 years.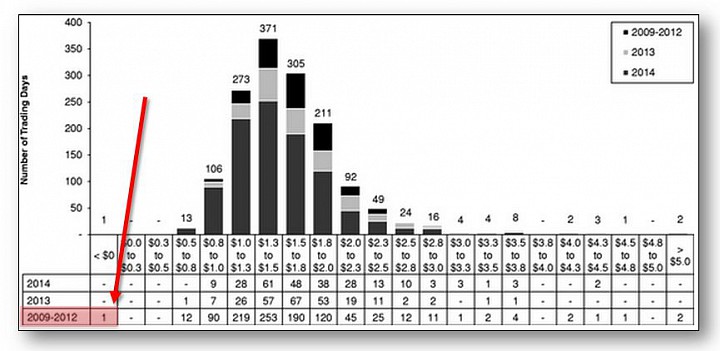 Apparently it is beneficial to have Dick Grasso (former NYSE Chief Executive and Chairman) along with Jack Sander (former CME Chairman) and General John Abizaid (former head of US Central Command) on the company payroll.  The investment by Virtu in heavy-handed human capital has paid off as the company notes in its filing (emphasis added):
"The overall breadth and diversity of our market making activities, together with our real-time risk management strategy and technology, have enabled us to have only one overall losing trading day during a period of 1,485 trading days."
The life of high-frequency trading and market making is still rosy and awesome over at Virtu.
The full filing with the SEC can be found here.