'Reflation'-themed fund-flows are fading fast (with equities, cyclicals outflows accelerating), and 'higher rate beneficiaries'-linked bond flows (bank loans, HY, inflation protected) slowing to multi-month lows. As RBC's head of cross-asset strategy, Charlie McElligott notes, their model shows the ETF inflow story is no longer a price-driver of short term stock market pricing... "it's a new regime."
McElligott notes the following three key themes remain:
1. The trend of "soft data" beats against less-exuberant "hard" data is both a US and EU phenomenon.  This 'spread' will need to compress, especially as 'surprise' indices inherently mean -revert.

 

 

2. With regards to the currency impacts of this data, fast money accounts are increasingly turning 'short USD,' aligning with the larger view on the global CB "policy convergence" story as the ECB will continue to feel the pressure of 'shifting forward' their timeline w.r.t. either tightening or tapering.

 

3. In turn, the USD should see ongoing weakening pressure, ESPECIALLY (duh) if the Trump 'fiscal policy' wobble takes a big "L" on healthcare.
With US 5Y5Y inflation down to 2.35 from 2.49 at start of month, and 5Y BE's down to 1.95 from 2.08, this loss of confidence in the inflation path is beginning to be reflected.  Add in the 'inflation equities longs' basket -3.4% / 'high beta cyclicals' -2.2% just on the WEEK-to-date and there is serious 'smoke' to this 'fire,' with 'defensives' / 'low vol' and 'secular growers' now accelerating.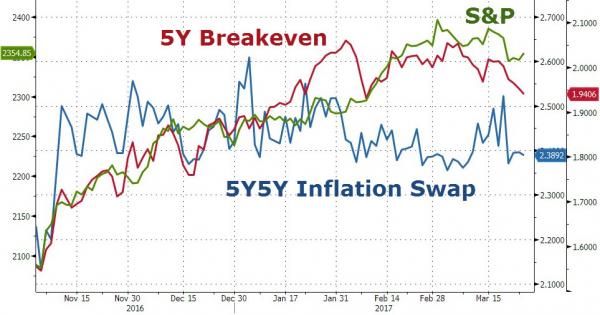 'REFLATION FATIGUE' EVIDENT IN FUND FLOWS: Speaking of the 'reflation fatigue' theme, we turn to fund flows.  EPFR data released last night showed a number of key themes linked-to 'reflation' that are either 'tiring' or outright reversing:
Equity funds saw their first collective outflow YTD and ending the largest developed market equity fund inflow streak since late 2015.
US equity funds saw their largest outflow since Brexit this week, with the prior week in US equity funds having seen the largest RETAIL outflow in 13 months
US Utilities funds saw their first weekly inflow streak in over three months (inflows to 'defensives') against US industrials seeing their largest outflow since mid-Jan and redemptions in US financial sector funds at nine-week highs (redemptions in 'cyclicals')
Bond funds showing similar dynamic, with 'reflation' / 'higher rates' narrative beneficiaries 'bank loans' (floating rate) seeing their smallest inflow since late Nov '16
US Inflation Protected Bond funds seeing their smallest inflow since early Dec '16
US High Yield funds seeing their third straight outflow (higher coupon insulates against higher rates—now less attractive risk / reward)
'ETF INFLOWS TO STOCKS' NO LONGER DRIVING PRICING: This is pretty amazing - the Quant-Insight PCA macro factor model shows that the long-term (250d) model for SPX pricing shows that 'shares outstanding' increases in SPY ETF have been the SECOND LARGEST FACTOR SENSITIVITY for SPX, i.e. the shift from active to passive from both institutions and retail flows has been a massively important price support for SPX: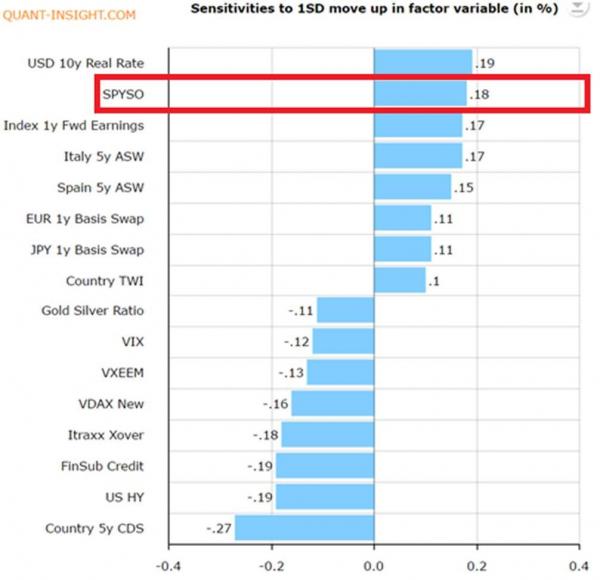 But here is where it gets super-interesting.  This relationship 'peaked' in the "post- US election through Jan '17" period…and has since collapsed precipitously since, down to 'zero' in fact. 
Thus, increases in SPY shares outstanding are showing no impact on SPX short-term prices.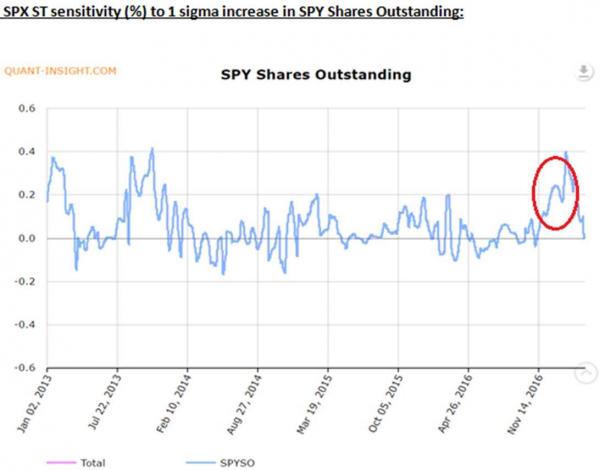 Said another way, the "retail inflow to stocks" story is no longer part of the regime - at all.  Thus, SPX pricing will seemingly come back down to 'data' ('soft' converting to 'hard') and 'earnings growth' once again.