Microsoft (MSFT) is currently in the process of transitioning more of its business to a mobile- and cloud-based strategy to be on the proper side of secular market trends. The proprietary software business still generates most of MSFT's revenue as its most longstanding business venture, but shifts in the marketplace are driving the company to cater toward this demand.
Brief Overview of Current Segment Trends
In June 2015, MSFT streamlined its reporting segments into Productivity and Business Processes (29% of revenue), Intelligent Cloud (27% of revenue), and More Personal Computing (44% of revenue).
Year-over-year, Productivity and Business Processes grew slightly over 2015's figures (MSFT's fiscal year starts and ends at mid-year rather than the calendar year), with the company's Dynamics CRM software showing a 4% boost in revenue. Commercial and consumer Office revenue remained relatively flat due to declining PC sales, an unfavorable currency impact, and a transition from a transactional- to subscription-based sales model with the introduction of Office 365 (discussed in more detail below). Operating margin decreased 7% Y/Y primarily due to a higher cost of goods sold, as MSFT's venture into the lower-margin cloud services business bled into the segment.
Intelligent Cloud grew its revenue 6% Y/Y, driven by a more-than-doubling of Azure's revenue. The growth was muted by the loss in transactional revenue from on-premises server products, as companies continually shift more of their data onto the cloud.
More Personal Computing declined in revenue 6% Y/Y, with devices revenue falling 32%. Phone revenue fell 56%, with Surface revenue increasing 13% with launches of the Surface Pro 4 and Surface Book in Q2 and Surface 3 in Q4. Windows sales continued their decline with revenue falling 5%. Search advertising revenue increased 46%, with higher search volume and revenue per search on its Bing platform. Gaming revenue was essentially flat.
Forward-Looking Trends
With recap out of the way with respect to recent segment performance, I wanted to address three notable trends facing the company. The first two are positive, with the third being an issue MSFT has faced for years and will continue to face.
#1: Advantages in the Multi-Billion Dollar Cloud Industry
In the consumer market, mobile devices are increasingly becoming closer to personal computers in terms of increasing personal usage habits. With smartphones and tablets possessing less memory than PC's, and streaming services and mobile app downloads leading to leaps in data usage, the demand for cloud infrastructure has dramatically increased in response. While companies such as Apple (AAPL) are feeling the pressure of slowing smartphone sales from a saturated market, companies taking advantage of the increasing mobile usage through cloud offerings stand to benefit.
In the business sphere, where MSFT stands to make its mark, the cloud offers advantages that give the company's service offerings substantial growth potential ahead. With smaller- and mid-sized businesses, cloud technology can now level the technological playing field with larger firms (while remaining lean), provides security by removing the potential loss of sensitive data on hardware-based systems, centrally stores documents to effectively enhance employee collaboration, provides access to automatic software updates, and is essentially capital expenditure-free beyond recurring subscription fees. These advantages can create substantial value to companies and enhance bottom-line figures through direct efficiency gains.
I believe MSFT is on the forefront of this shift, and its cloud infrastructure is, until market trends dictate otherwise, the key to forging beyond its days as a software-selling business. The company is widely seen as possessing the second-largest cloud business behind only Amazon (AMZN). MSFT's Azure service has been instrumental in helping offset the decline in the PC and mobile phone market. Azure's revenue, as aforementioned in the segment summary, more than doubled (increasing 113%) in the FY2016 ending 6/30/16 over the FY2015 despite an unfavorable currency headwind of approximately 5%. The signs on Azure are encouraging given that cloud migration may possibly be slower than anticipated given companies' recent investments into private data centers. Regardless, I think the trend is largely inevitable and in-house data centers are a brief intermediary to something technologically superior with expenditures spent on such systems representing a sunk cost.
Interestingly, MSFT has been particularly effective at harnessing its pre-existing customer relationships to sell cloud services to companies that already use the company's software products. While Amazon's AWS and Google's (GOOG) cloud platform are making an early mark in the industry, I believe MSFT is probably better positioned in terms of its customer portfolio in order to generate economies of scale.
Accordingly, MSFT comes from a unique position relative to its competitors in that it has the ability to leverage a trove of available assets - existing software (Office, .NET, SQL), computing technology, customer base, and general ecosystem advantages - in the on-premises environment into effectively enhancing its cloud service offerings. On top of that, it appears many of MSFT's preliminary investments into developing its cloud infrastructure have been completed, which should help cut down slightly on capital spending projections.
One potential issue is that cloud subscription services represent a lower-margin revenue source relative to the company's previous focus on selling software licenses over regular time intervals. MSFT's margins have fallen continually over the past five years and I project the company's margins to fall, at minimum, into 2017 as well. Regardless, the company must focus on growth initiatives that capitalize on where the demand is currently rather than low-/negative-growth revenue sources.
#2: Office's Shift from a Transaction to Subscription Model
MSFT's strategy to shift its flagship Office platform from a transactional- to subscription-based model should result in a margin boost on Office revenue. Office 2016 (Home & Student) can be purchased for a one-time fee of $150 while its new platform, Office 365, can be purchased for $100 per year for a household or $70 per year for one individual user.
A subscription service provides the value of a recurring revenue stream and creates a sticky customer base. Previously, Office represented only a $20-$30 cost per year on the basis that a new version was released only once every 5 or more years. With the hike into the $70-$100 per year range, this represents a compelling and viable pricing strategy given the exceptional brand value of the product. Naturally consumers may recognize the value in paying the one-time fee of $150 for Office 2016, coming out ahead in 1.5-2 years. If subscriptions on Office 365 lag behind expectations, the company could simply decide to hike the Office 2016 fee in order to drive more demand for the subscription service. The Office 2016 product, nonetheless, will naturally decay in value over time through the lack of updating and the gradual antiquation process will drive the subscription service forward. Many consumers will simply bite on the higher pricing from the perpetual revenue strategy given the premium services justify a portion of the increase purely from a value-add perspective. Moreover, to ensure the potency of the subscription model, an expiration of the subscription will result in "read-only" limited utility capabilities, forcing a re-up of the subscription to regain full functionality and control over the documents.
The shift fundamentally boils down to a recurring and margin-rich source of revenue, and a potential definitive boost for the recently down-trending Productivity and Business Processes segment.
#3: Declining Windows Sales
Investors largely realize that Windows sales are declining and the trend is likely set to continue, though it may be floored by some level of protection afforded by its business licensing agreements. Yet less than 20% of MSFT's sales are now derived from Windows. There is also some level of skepticism regarding whether the company's Windows 10 operating system will be able to generate significant market share among mobile and tablet computing devices with its pre-existing low figures. As of July 2016, Windows remains at close to 90% market share among desktop and 2.8% market share among mobile and tablet devices.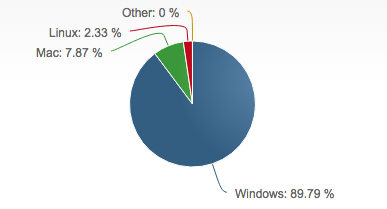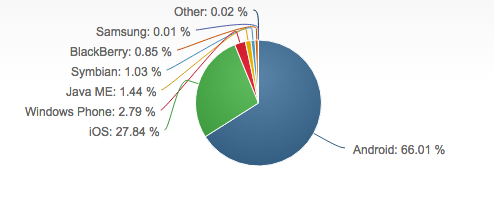 (Images source: netmarketshare.com)
Conclusion
Although MSFT's stock is too expensive for my personal tastes at the moment, I believe it's a company going in the right direction. CEO Satya Nadella has rolled back many of former chief Steve Ballmer's initiatives into mobile phone development and took a $1.1 billion charge last quarter by moving on from the acquisition of Nokia's handset business that massively underwhelmed management's initial expectations. The company also eliminated 7,400 positions over the past fiscal year in the phone hardware business.
Annual revenue from the end of the FY2016 (6/30/16) fell for the first time in seven years due to falling PC sales and the pullback from mobile phone development. But segments that represent the future of the company are currently growing at a solid pace. Expect the company to remain challenged in its ability to expand margins moving forward, especially as it absorbs business in the growing cloud services market, but top-line growth shows promise in the near-term.