Togliatti proud
For many decades AvtoVAZ has been one of the Russian automobile industry leader (it is still really significant for the country). Having been founded in 1966 it is located in Togliatti, mostly, and partly in Izhevsk. Nowadays more than 56 000 people work there producing approximately 1 million cars a year with average price of 289 – 500 thousand rubles.
According to data by AVTOSTAT analytical agency, published in November, AvtoVAZ car brand, LADA, takes 33.9% out of the whole passenger vehicles registered in Russia. LADA brand continues to hold the status of the Russia's bestseller.
A bit of comparison
AvtoVAZ financial statements indicate the revenue reduction for approximately 3% (from 135151 m rub. to 131 231 m rub.) while loss for the period declined for more than 4,4 %. It means that effective costs decreasing policy is taking place.
Company remains one of the most well capitalized Russian entrepreneurship in comparison with other national companies. As there are noticeable losses for the last years, it is not reasonable to compare P/E marks. Nevertheless, P/S is the highest one among its rivals, 0,12, and indicates the value placed on each dollar of a company's sales or revenues. The industrial average of 6,33 inform about possible undervaluation of stocks.
EBITDA multiple determines the value of a company. A low ratio indicates that a company might be undervalued. Moreover it takes debt into account (AvtoVAZ has really high loans and borrowings level – 89684 m rub., that is more than a half of all the assets)
Table 1. Comparative analysis
| | | | | | |
| --- | --- | --- | --- | --- | --- |
| | Cap, m$ | P/E | P/S | ROS,% | EV/EBITDA |
| AvtoVAZ                         | 282 |    -0,78 |        0,12 |     -15,39 |        67,63 |
| GAZ | 136,2 |     -9,5 |        0,09 |      -0,99 |        11,57 |
| KAMAZ | 386,6 |    11,79 |        0,33 |       2,77 |         23,35 |
| Irkutsk corporation | 130,4 |     2,18 |        0,08 |       3,52 |        11,57 |
| Industrial average | 3733,2 |    313,5 |        6,33 |      70,13 |         26,38 |
According to www.rbc.ru
What happened
After the 2004-2007 significant surge AvtoVAZ has plunged sharply during the 2008 crisis the results of which are mentioned before now.
Picture 1. Shares price for the period of 2007-2015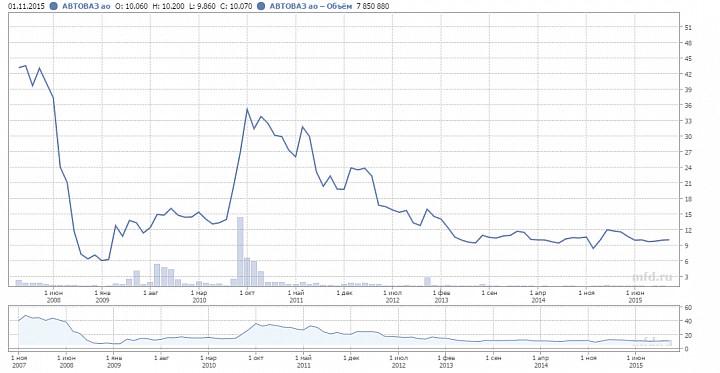 According to mfd.ru
In 2008 Renault-Nissan has bought 25% of shares that makes shares price stop falling and climbing up steadily. The sharpest surge let them reach their top in October of 2010 and then stocks started declining with slight hesitations. However, since 2013 the horizontal trend takes place and according to long-term modernization plan it may lead to the plant rehabilitation.
Moreover, according to the Altman model (Z = 1,2 * Х1 + 1,4 * Х2 + 3,3 * Х3 + 0,6 * Х4 + Х5) AvtoVAZ bankruptcy possibility in 2013-2014 is relatively low, 15-20%. Being an automobile giant, the plant is supposed to be supported by the government as it happened in 2010 when it was given without percentage loan from government corporation "Rostechnologii".
This year Renault-Nissan obtained 50,01% of company shares that will definitely improve its position in the car industry.
Nowadays reality
The graph below presents the information about AvtoVAZ shares price changes during the last two years. There are three indicators on the price graph in order to understand the possible trend and the necessity of buying or selling shares.
Picture 2. Weekly graph with MACD, Bollinger, Stochastic indicators (06.01.2014 – 09.11.2015)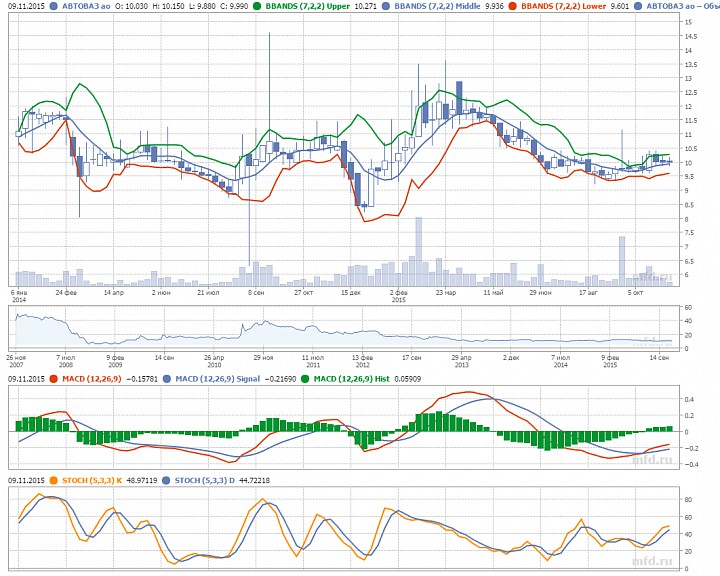 According to mfd.ru
First of all, Bollinger lines reflects the lack of shares volatility in October and November in contrast with the beginning of September. Furthermore, in October price has touched the lowest line that was an evidence of worth buying time (but without any other signs it is too unreliable measure)
As stochastic oscillator dropped down to 20 point first and then started increasing steadily since the end of October, changing trend sign appeared (that is why shares price may start climbing up).
At the same time MACD doesn't show significant and reliable signs of future growing tendency. However, there is a down-up intersection of MACD and average line (at volumes graph) that witnesses about suitable for buying trend.
Buy or not to buy: that is the question
1. There seems to be slow but well-grounded development since Renault Nissan obtained the control over company. Although it wasn't really noticeable because of crisis and long modernization process it is clear that many achievements happened.
New model, LADA Vesta, joined a fleet of Samara Regional Administration

Not so long ago LADA officially unveiled the exterior of a new XRAY model. Start of production is planned in 39 days on December 15, 2015 in Togliatti.
In Italy the company president Bo Inge Andersson declared: "25 Sept 2016 - LADA Vesta Cross goes into production".
2. Moreover, as indicators analysis shows there is a great opportunity for shares to growth. Nevertheless, it is less likely to be sharply, that is why it is not the best stocks for speculation. Even company's top-managers every time enhance the long-term growth investment strategy.
3.A new foreign management has their own vision and plans for the plant development. Despite it is harmful and difficult sometimes especially for those who are fired and discharged. The head of the board of directors Carlos Ghosn is known as "expenses killer" because of Nissan and Renault deals is a great chance for AvtoVAZ to get a new life.
4. Government support may benefit long-term investors and reduce their risks, despite they will have to wait for the dividends long enough as company management will direct profit to modernization in the first time.
We suppose that it is a good moment now to purchase shares but for those who aimed long-term goals. According to financial reports and plans for the future; combination of middle-segment price, suitability for Russian roads and European quality modern LADA cars have a good chance for success and achieve their planned 20% of market.