Church & Dwight Co., Inc. CHD recently announced plans to acquire Water Pik Inc. from private equity firm MidOcean Partners for about $1 billion in cash. Following the news, the company's shares moved up 1.4% on Jul 17. In fact, shares of Church & Dwight have been gaining momentum for the last six months on the back of its brand portfolio and acquisition strategies.
Church & Dwight stock was up 18.7% compared with the Zacks categorized Soap & Cleaning Preparations industry's gain of 13.8% in the said time frame. Notably, the industry is currently placed at top 3% (7 out of 256) of the Zacks Classified industries.
Why is Water Pik a Strategic Buy?
Fort Collins, CO-based Water Pik manufactures oral hygiene products and shower heads and recorded net sales of about $265 million in the year ended Jun 30, 2017. In fact, Water Pik is the leading water flosser and replacement showerhead brand in the U.S.
The acquisition of Water Pik will thus complement and expand Church & Dwight's oral care portfolio which includes Spinbrush battery-operated toothbrushes and Orajel oral analgesics. The deal will also help Church & Dwight to secure a leading position in the oral care category. The oral care category has been on growth trajectory of late due to the increasing number of ageing population and rising consumer interest. Moreover, with the fast growing flosser products business across all demographics makes Water Pik brand acquisition is a strategic fit to Church & Dwight growth plans. Water Pik has a strong reputation among dental care professionals. The deal is subjected to regulatory approval and is expected to close in the third quarter.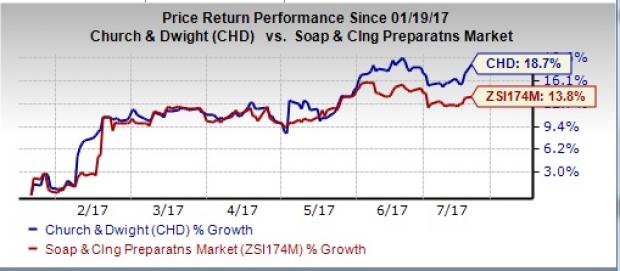 Synergies
Once the business is fully integrated, Church & Dwight expects to leverage its distribution network and operating discipline to achieve an estimated $10 million in operating synergies by 2019. Church & Dwight reaffirmed its profit forecast for 2017 and expects an adjusted profit of $2.09 per share in 2018.
Driving Factors
Armed with a robust brand portfolio, Church & Dwight makes regular innovations and is well positioned in the consumer product categories. The company has a healthy cost management structure. Alongside, Church & Dwight is on track to expand its market share through strategic acquisitions. The recent buyouts of Agro BioSciences, VIVISCAL business and ANUSOL and RECTINOL brands are expected to add further strength to the Church & Dwight's sturdy portfolio and improve business. This Zacks Rank #2 (Buy) company has a solid earnings history. In the last seven quarters, the company's earnings have outpaced the Zacks Consensus Estimate four times. Sales topped the same for six times over the said time frame.
Looking for Other Hot Picks?
Other top-ranked stocks in the industry are The Clorox Company CLX, Unilever PLC UL and Colgate-Palmolive Company CL, each carrying a Zacks Rank #2. You can see the complete list of today's Zacks #1 Rank (Strong Buy) stocks here.
The Clorox Company and Colgate-Palmolive have long-term earnings growth rate of 6.8% and 9.2%, respectively. Unilever has a Growth Score of "A" and a Value Score of "B".
5 Trades Could Profit ""Big-League"" from Trump Policies
If the stocks above spark your interest, wait until you look into companies primed to make substantial gains from Washington's changing course.
Today Zacks reveals 5 tickers that could benefit from new trends like streamlined drug approvals, tariffs, lower taxes, higher interest rates, and spending surges in defense and infrastructure. See these buy recommendations now >>
Want the latest recommendations from Zacks Investment Research? Today, you can download 7 Best Stocks for the Next 30 Days.
Click to get this free report
Unilever PLC (UL): Free Stock Analysis Report
Colgate-Palmolive Company (CL): Free Stock Analysis Report
Church & Dwight Company, Inc. (CHD): Free Stock Analysis Report
Clorox Company (The) (CLX): Free Stock Analysis Report
To read this article on Zacks.com click here.
Zacks Investment Research