With Wall Street scrambling to digest Amazon's AMZN shocking acquisition of Whole Foods WFM, the retail industry is once again in the spotlight, and perennial Amazon competitor Walmart WMT is already starting to feel the effects of the deal.
As evidenced by the sharp 5% drop in Walmart stock following Amazon's announcement of the acquisition, investors are clearly concerned about what the Amazon-Whole Foods merger might mean for the retailers whose only advantages over the e-commerce giant were location and fresh food.
Nevertheless, the full effects of the Amazon-Whole Foods deal likely won't be felt for some time, and investors are still concerned with making profits right now. So should you buy WMT on the slight dip, or is it time to invest in the growing dominance of AMZN? Let's take a closer look.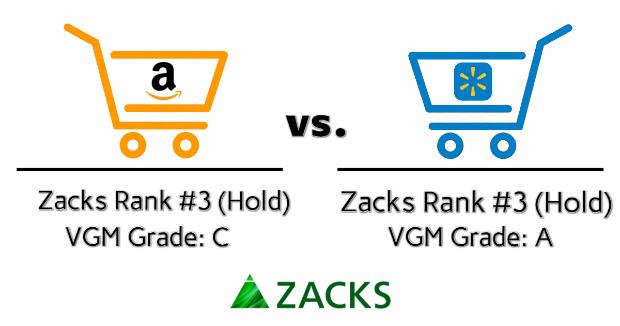 As we can see, Walmart has the edge in the overall VGM grade, which implies that its fundamental picture is a bit stronger than Amazon's. This is best illustrated by digging into the respective value-focused metrics, as Amazon reveals itself to be the tech company it truly is, while Walmart looks more like the tried-and-true consumer staple. Indeed, with a P/E ratio of 17.28, a P/B ratio of 3.14, a P/S ratio of 0.46, and a P/CF ratio of 8.05, Walmart is much more likely to be considered "undervalued" than its rival.
However, Amazon has more room for the exciting growth that we expect to see in tech companies. In fact, if our current consensus estimates hold up, we expect to see Amazon post EPS growth of 34% on revenue growth of 22% this fiscal year. After pumping cash into rejuvenating its stores and expanding its e-commerce business, Walmart's EPS growth looks to come in just under 1%. Nevertheless, projected sales growth of nearly 2% is solid for a blue chip like Walmart.
Of course, we should also note that both AMZN and WMT currently hold a Zacks Rank #3 (Hold). Remember, the Zacks Rank is heavily influenced by earnings estimate revisions, so let's check out a quick snapshot of the revision activity we have seen for both companies recently. Here's Amazon's first:

And here's a look at Walmart's recent revision activity:

As we can see here, Walmart's snapshot is a bit more impressive, but neither company has the type of revision activity we would be more likely to see with a higher-ranked stock. However, it is important to recognize that there are more than 2,500 Zacks Rank #3 (Hold) stocks at any given time, and not all of them are made the same.
In this case, it's clear that analyst sentiment has been slightly more positive for WMT. There hasn't been strong agreement on either of the next two quarters, but our Zacks Consensus Estimate has remained relatively unaffected, so our overall expectations remain unchanged.
On the other hand, our expectations for Amazon's upcoming fiscal periods have significantly slumped since its last earnings report. Nevertheless, Amazon seems to have the greater potential to beat in a big way. Although the company isn't the most consistent earnings over-performer, it beats big when it does beat. In the most recent quarter, adjusted earnings surpassed our consensus estimate by nearly 44%.
Finally, let's take a glance at the six-month charts from both of these stocks to see if anything interesting reveals itself: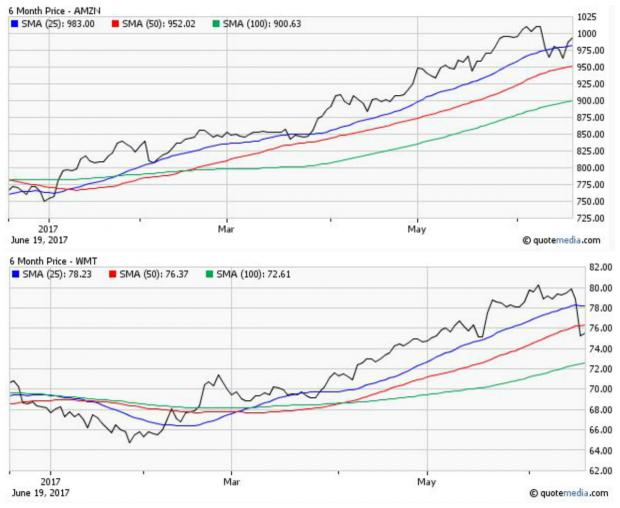 As we can see, AMZN has significantly outpaced WMT recently, and it has been one of Wall Street's hottest stocks this year. We'll touch more on that momentum in a second, but first we should notice that the 25-day moving average has provided some comfortable support for these stocks—except for in the case of significant outside events.
AMZN dipped below its 25-day moving average during the recent tech sell-off, while WMT plunged below its 25-day and 50-day moving averages during the aforementioned Whole Foods-related scare. Dips below these averages aren't good signs, but we've already seen slight recoveries from both stocks, and we have not seen any bearish moving average crossovers yet.
In short, we're still on the fence here, and our overall question remains unanswered. In this head-to-head, it will come down to the trading behaviors of you, the individual investor. Walmart is a blue chip stock that has flexed its muscle despite a relatively-weak brick-and-mortar retail industry. Amazon is a hybrid tech behemoth with exciting growth prospects.
In the nearest of terms, this competition will likely come down to whether or not the strength of large cap tech stocks continues into the second half of the year. The recent volatility was a cautious warning for many investors, but others might chalk it up as routine profit taking. If the tech dominance continues, we'd have to imagine Amazon has the edge here, but that remains a big if for now.
Looking for Stocks with Skyrocketing Upside?
Zacks has just released a Special Report on the booming investment opportunities of legal marijuana.
Ignited by new referendums and legislation, this industry is expected to blast from an already robust $6.7 billion to $20.2 billion in 2021. Early investors stand to make a killing, but you have to be ready to act and know just where to look. See the pot trades we're targeting>>
Want the latest recommendations from Zacks Investment Research? Today, you can download 7 Best Stocks for the Next 30 Days.
Click to get this free report
Amazon.com, Inc. (AMZN): Free Stock Analysis Report
Wal-Mart Stores, Inc. (WMT): Free Stock Analysis Report
Whole Foods Market, Inc. (WFM): Free Stock Analysis Report
To read this article on Zacks.com click here.
Zacks Investment Research