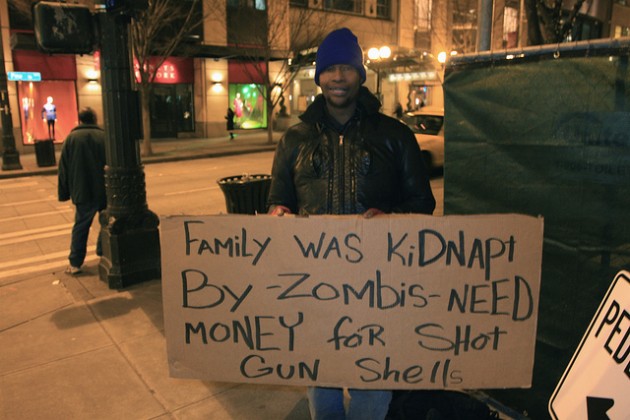 This zombi problem is spinning out of control and must be addressed. (IMAGE: 999thepoint.com)
Wage exuberance a la the Real Hourly Earning report just put out by the US Bureau of Labor Stats is all well and good for those who choose to jump up and down over meaningless and totally transparent indicators; the newly released figures indicating a comfy looking little spike in wages when adjusted for inflation are thus: 1.2% to an inflation-adjusted $10.55/hour from $10.42 in December. 
All that was broken is now repaired! All wounds are healed!
Bounce this against a couple of other indicators just released, Messrs Polyannas:   Initial jobless claims leapt up 31,000 to 313,000 - the largest percentile jump since December 2013. The number of ongoing unemployment claims eased a tad but were still up a rock solid 3.5% over the last quarter. This is sitting at pretty much the worst disposition since the massive 2008-2009 banking collapse.
Take a juicy chaw on the following, Polly: The Bloomberg Consumer Comfort Index just came in and it--quoting Bloomberg via a Tribune syndication:
fell to 42.7 in the period ended Feb. 22 from 44.6 a week earlier. The 1.9-point decline was the biggest since May 2014. A gauge of the current state of the economy slumped by the most in almost four years.
What's on their minds? 
Wage fears. Despite the token move by megacorps like McDonald's (NYSE: MCD), Dominos (NYSE:DPZ) and Wal Mart (NYSE: WMT) to increase worker wages, consumers see through these increases as light preemptive token moves to relieve political pressure that could severely effect bottom lines if massive across the board increases were forced state by state. Corporations like these with massive low wage labor pools are trying to nip the national momentum towards a minimum wage north of $11 and higher by bringing their employees up to the $9-10 zone, to give the appearance of an issue, already handled. 
Those at the receiving end of these paltry unlivable increases ("$400 a week before taxes by the year 2016? Bless you, good sir, you're just too kind and I almost feel guilty only working 40 hours every back breaking week!") know that those working at these excessively rich, massive companies are being taken from wages that were Completely Unlivable High-School-Summer-Job level, to that of Completely Impoverished Working Adult level. Thus, whatever exuberance investors and economists may feel within the comfort of their insulated offices crunching Real Hourly earnings numbers that have inched "favorably" higher, the vast mass of regular Americans know something very different is going on here. 
Here's another tidbit:
The measure of Americans' views of the economy dropped 3.2 points, the most since March 2011, to an eight-week low of 35.7. The gauge of personal finances fell to 53.8, also the weakest reading this year, from 56.6. It was the fourth straight decline.
As for the jobless claims, a little deeper into the continuing claims numbers:
The number of people continuing to receive jobless benefits dropped by 21,000 to 2.401 million in the week ended Feb. 14. In that same period, the unemployment rate among people eligible for benefits held at 1.8 percent, the report showed.

The four-week average of claims, a less-volatile measure than the weekly figure, gained to 294,500 from a revised 283,000 the week before.
Of course, the number never calculated into the labor stat abacus is the number of people who have fallen off of the ongoing claims calendar due to exhaustion of benefits, left out in a difficult market to fend for themselves. Thus, the "jobless" claim report as everyone knows, is an illusion: they are simply a measure of those either newly receiving or continuing to claim UP benefits in their state. Those whose employers fought the case, didn't apply because they were fired, and those who fell off of the rolls due to expiration of claim period are not represented and-were there a way to measure these souls--would fatten these numbers astronomically.
So the next time you use a burgeoning stock market, the S&P 500 or the Dow to measure the health of this nation .  .  .  peel the onion a little further. Your eyes water more and more, the deeper you go and the more you peel away to reveal.
Preston Clive
2/26/2015***