Shares of Facebook FB gained more than 2.25% through early afternoon trading Tuesday, touching a new all-time high of $163.36 in the process. Today's movement extends what has been an incredible run for the dominant social media stock, which has watched its share prices climb more than 40% year-to-date.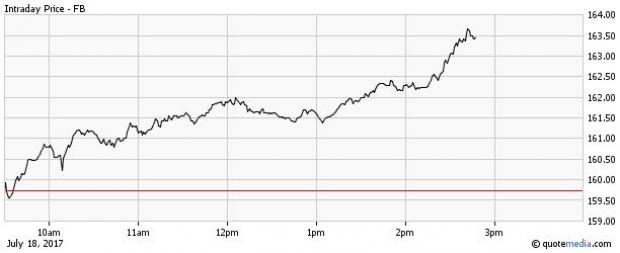 Facebook will look to carry its momentum into its earnings announcement next Wednesday. According to our current consensus estimates, the social media behemoth is expected to post quarterly profits of $1.13 per share and revenues of $9.17 billion, which would represent year-over-year growth of 48% and 42.5%, respectively.
These growth rates are obviously impressive, despite the company's warning that year-over-year comparisons would begin to tighten in 2017. Management has attempted to relax expectations by detailing its plans to spend more on new projects, but regardless, the results speak for themselves.
Facebook's recent success on Wall Street comes in stark contrast to that of its recently debuted competitor, Snap Inc. SNAP. Just a few months after Snap held its historic IPO—the second biggest U.S.-based tech IPO, after only Facebook's—the stock is struggling to gain favor with investors (also read: Snap Shares Break Even Lower: Will the Slump Stop Soon?).
Of course, Facebook is to blame for at least some of Snap's struggles. Mark Zuckerberg's iconic brand has essentially copied several of Snapchat's ideas, such as the 24-hour "story" concept, across several of its platforms, including WhatsApp and Instagram.
And with an eye on the future, Facebook, which recently crossed over the 2 billion monthly active user threshold, is continuing to invest in new projects throughout the growing fields of augmented reality, live streaming, and artificial intelligence.
Facebook's upcoming earnings announcement will likely be a catalyst for the stock's near-term price action, but even if the report disappoints, don't expect the wheels to fall of this train completely. The company is obviously a dominant social media force, and it seems positioned well to be among the tech industry's leaders for years to come.
Nevertheless, make sure to check back here for coverage of Facebook's earnings report, and more!
Want more stock market analysis from this author? Make sure to follow @
https://twitter.com/Ryan_McQueeney
on Twitter!
5 Trades Could Profit "Big-League" from Trump Policies
If the stocks above spark your interest, wait until you look into companies primed to make substantial gains from Washington's changing course.
Today Zacks reveals 5 tickers that could benefit from new trends like streamlined drug approvals, tariffs, lower taxes, higher interest rates, and spending surges in defense and infrastructure. See these buy recommendations now >>
Want the latest recommendations from Zacks Investment Research? Today, you can download 7 Best Stocks for the Next 30 Days.
Click to get this free report
Facebook, Inc. (FB): Free Stock Analysis Report
Snap Inc. (SNAP): Free Stock Analysis Report
To read this article on Zacks.com click here.
Zacks Investment Research