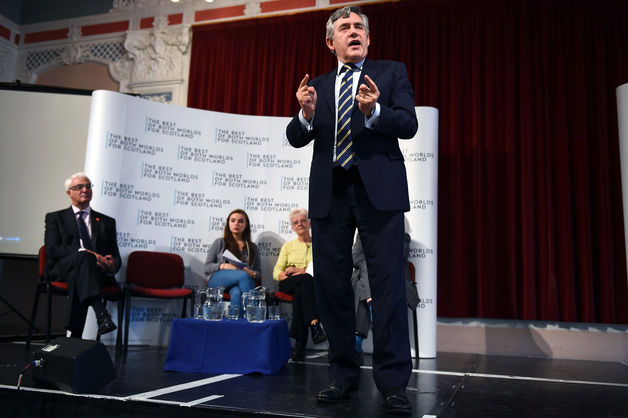 Photographer: Jeff J Mitchell/Getty Images
Better together leader Alistair Darling, left, and former Prime Minister Gordon Brown
Former British Prime Minister Gordon Brown stepped back into front-line politics to offerScotlandalmost full power over its domestic affairs as the U.K.'s main parties raced to stave off surging support for independence.
In a move agreed by the governing Conservatives and Liberal Democrats, Brown pledged that if Scots vote against breaking up the U.K. in next week's referendum, he will personally put before parliament by January a bill giving them control over welfare, taxation and the economy.
"These proposals are radical: they change not just Scotland but Britain," he said, laying out his plan in a speech to a miner's welfare club in Loanhead, south of Edinburgh. "They are as close to federalism as you can come in a country where 85 per cent of the population is from one nation."
The intervention is the most dramatic yet from the politicians of all stripes who are trying to persuade Scots their future is better served continuing with the 307-year-old union withEngland. The stakes were raised after an opinion poll at the weekend showed the Yes campaign had overtaken the No side, findings that sent financial markets tumbling.
A monthly survey by TNS published today confirmed the swing, with the No lead shrinking to a single percentage point from 13 points in the previous poll. There was 39 percent backing for staying in the U.K., with 38 percent of people wanting independence and 23 percent undecided.
Wafer Thin
"It's too close to call and both sides will now be energized to make the most of the last few days of the campaign and try and persuade the undecided voters," Tom Costley, head of TNS Scotland, said by e-mail.
Until last week, Brown had all but disappeared from the U.K. political scene since he led Labour in the 2010 general election to one of its worst-ever defeats. The lawmaker for Kirkcaldy in central Scotland where he grew up, Brown has spoken in parliament in Westminster just twice this year and made a few public lectures on Scotland and the U.K.
As polls showed signs of momentum toward the nationalists, he stepped in with a series of grass roots meetings. His intervention last night is the final shot in the locker of those trying to stop a vote for Scottish independence.
Brown, 63, whose popularity hit record lows when he was prime minister, walked on stage to cheers, whistles and sustained applause. He was introduced by local lawmaker David Hamilton as "one of the greatest Scots in our history."
Scottish Pride
He spoke without notes, pacing before his audience as he ranged across topics from the history of the Labour Party to the distribution of welfare to the record of Scotland's soccer team.
"I yield to no one in my pride in being Scottish," Brown said. "We can be proud of what's Scottish and still be part of the U.K. There's a patriotic vision about our future, a proud vision that I want to put forward."
Britain's three main political parties, which are all campaigning for Scotland to remain part of the union, are racing to put together a package of proposals to dissuade a Yes vote.
Those efforts gained momentum after aYouGov Plc (YOU)poll put the pro-independence camp ahead for the first time this year, sending the pound and stocks tumbling yesterday.
Brown's proposal speeds up the timing of an agreement in principle that was signed last month with Prime Minister David Cameron's Conservatives and his Liberal Democrat coalition partners giving Scots more powers if they vote No on Sept. 18. The three parties have coordinated their response to the nationalist challenge and will announce more details at an event in Edinburgh today, according to the Conservatives.
Salmond Response
Scottish nationalist leader Alex Salmond, who leads the Yes campaign, dismissed a pledge of additional powers made by Tory Chancellor of the Exchequer George Osborne as a "bribe" that wouldn't sway voters in the referendum.
Home Rule, as Brown called it, gives a constituent part of a state the power to govern its own administrative area, and was historically a term used to mark Ireland's struggle for self-government and eventual independence from the U.K.
At the moment, theScottish Parliamentat Holyrood in Edinburgh has control over transportation, health, justice, education, while the U.K. retains policy making on the broader economy, finance, defense and foreign affairs.
"All the necessary policy work, detailed preparation, legislative drafting and pre-legislative scrutiny would have taken place so that an incoming Labour government, or any other government, would be in a position to complete legislation immediately upon taking office," Brown said.
Borrowing Powers
The new Scotland Act, as Labour termed the legislation, would allow the nation to issue its own bonds to finance infrastructure investment. Under plans already announced, Scotland will be able to borrow as much as 2.2 billion pounds ($3.6 billion) for capital investment in infrastructure via commercial loans and the National Loans Fund. The act also includes new powers over social care and housing benefit.
"These are the powers people want," Brown said. "A stronger Scottish Parliament within the U.K., without breaking the link on pensions, funding, health care, jobs, the currency and defense."
Brown, who served as chancellor of the exchequer in Prime Minister Tony Blair's cabinet when almost a third of the members were either Scottish or born in Scotland, said he wanted his nation to continue a prominent role in the U.K.
"I want Scots to lead the U.K.," he said. "I don't want them to leave the U.K."