Last week was certainly one to forget. With the threat of nuclear war escalating through the words of US President Donald Trump, markets became jittery and (eventually) saw a meaningful rise in the VIX (the so-called 'fear index'). Whilst the Dow Jones Industrial Average responded with a decline of just -31 points initially (no, thats not a typo) stocks and other risk assets came under greater pressure as the week progressed amidst frenzied media coverage.
With many pundits bracing for armageddon, and hedge fund manager Ray Dalio coming out with a call to buy gold as a hedge (he mustn't have seen our gold checklist last week), it is easy to get sucked in to the fear and trade on pure emotion (curiously, boffins reckon fear is a more powerful emotion than greed). However, even with the risk of war between the United States and North Korea, our Market Indicators checklist provides a reference for what we should be looking to do as investors - and is based on facts, not feelings.
Let's take a look at this approach in detail, which is based on our experience as professional investors and updated in real-time each month. The checklist provides a systematic process that fellow hedge fund managers and traders employ to analyse markets, from which the biggest trading decisions are made. We have similar versions to analyse stocks, currencies and commodities including crude oil and gold, and score each factor +1, -1 or 0 depending on whether they are regarded as positive, negative or neutral for the coming month. A positive total score indicates a potential buying opportunity, and a negative score suggests that you should look to sell (closing long positions or going short). A neutral score of 0 suggests avoiding trades when there is no clear bias.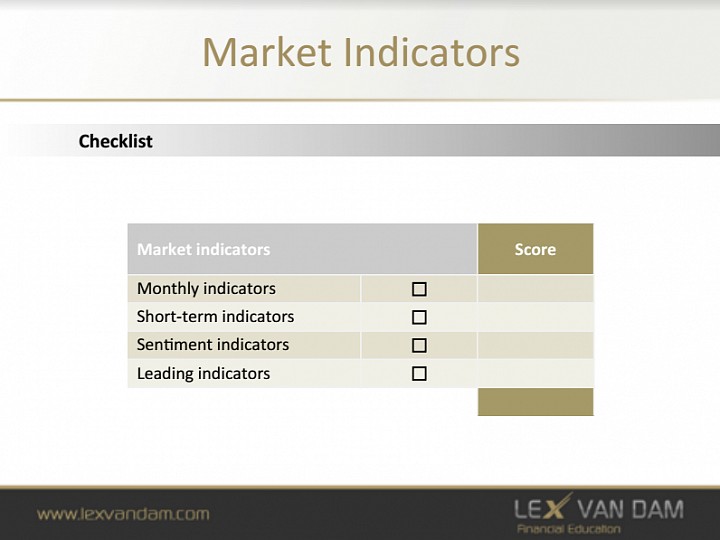 Monthly indicators. We look at these data very closely as they define the long term trend in the economy, and by...
More