Yesterday, I noted that WTI Crude Oil (USDWTI) was bearish despite breaking above a descending triangle resistance.
Today, we can see that the 7/21 session was indeed a bearish one. 

USDWTI 1H Chart 7/22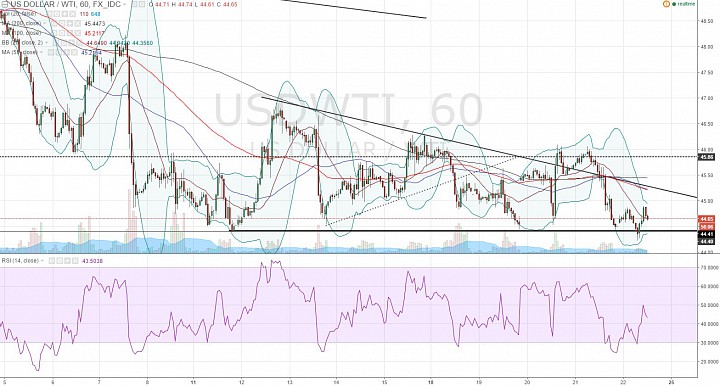 (click to enlarge)

Bearish break:
The 1H chart shows WTI Crude failing to clear above 46.00 after breaking above the triangle. 
There was still a lower high. 
Eventually after a double top, price fell sharply and broke the 44.40 triangle support.
It was a small break and not convincing yet.
Still, the fact that a bullish breakout turned into a bearish one suggests that bears are still in charge. 

USDWTI 4H Chart 7/22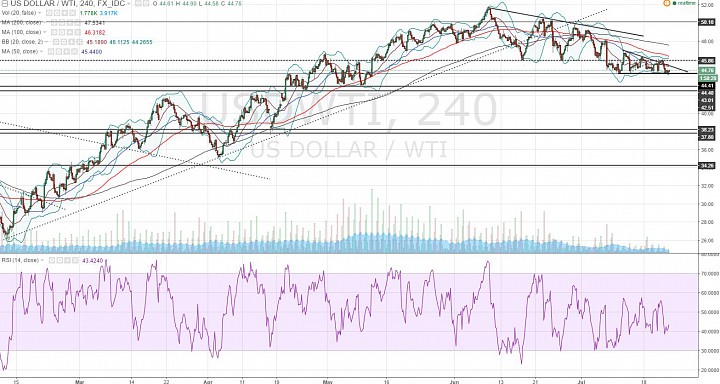 (click to enlarge)
Bearish targets:
If the bearish scenario does materialize, it should be in the context of a bearish correction against the Feb-June rally.
There is a support/pivot area between 42.50 and 43. We can anticipate some support here.
If price falls below 42.00, we can see a slide towards the 40 psychological handle. 
I would limit the bearish outlook to 40 for now.
An aggressive outlook could be the 37.80-38.20 support/pivot area as well.