India's biggest coffee exporter is expanding in Vietnam to help boost profit to a record as easy access to raw materials and regional trade agreements drive sales growth.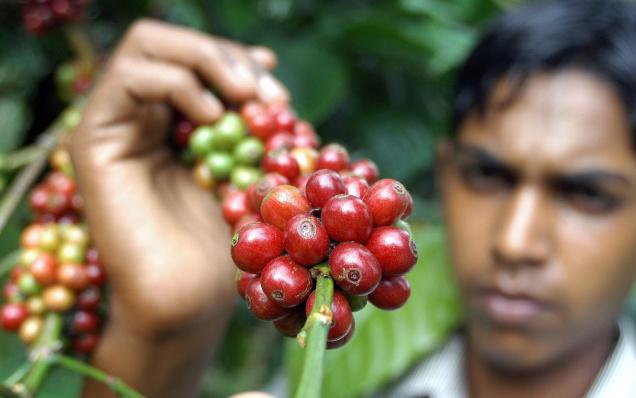 CCL Products (India) Ltd. (CCLP), whose shares have leaped 160 percent this year, will produce 5,000 tons this year at its Vietnamese plant with an annual capacity of 10,000 tons, and raise it further in the next three years, C. Rajendra Prasad, chairman and managing director of the Hyderabad-based company, said in an interview.
CCL Products is expanding capacity in Vietnam, the world's second-biggest grower of the beans, amid a rally in prices spurred by concern that drought in Brazil will shrink supplies from the world's largest grower. Forecasts for record crops in Vietnam and India will guarantee CCL Products raw materials and bolster efforts to win more buyers for instant coffee supplies dominated by Nestle SA and Kraft Foods Group Inc.
"The plant in Vietnam has added to our capacity and also reduced costs," Prasad said in a phone interview yesterday. "We are the largest importer of coffee in India from Vietnam for the last 15 years. That's why Vietnam invited us to put up this plant and gave us all the concessions."
The company, which has built infrastructure to produce 20,000 tons of coffee annually, plans to increase production to 85 percent of its capacity in the Southeast Asian country, he said. The Vietnamese government has granted CCL a four-year tax holiday, he said.
Coffee Hub
The plant's location in the green coffee hub of Dak Lak may save CCL Products about $50 a ton in logistics cost, Abhijit R. Akella and Anubhav Goel, analysts at Mumbai-based brokerage IIFL Ltd., said in a report on Sept. 8.
The company will benefit from the growth in the instant coffee consumption in markets such asSoutheast Asia, while Vietnam's free trade pacts with countries in the region will boost profit, they said.
"CCL Products is the world's leading supplier of instant coffee to private label marketers and is poised for strong earnings growth in coming years," IIFL said.
Net income at India's biggest coffee exporter may surge 40 percent to 900 million rupees ($14.8 million) in the year ending March 31 from 644 million rupees a year earlier, CCL's Prasad said. Sales may increase 26 percent to 9 billion rupees this year, he said.
Profit Forecast
IIFL predicts group profit at CCL Products this year to top Prasad's estimate at 981 million rupees and further jump to 1.41 billion rupees in 2015-16 and 1.91 billion in 2016-17. Vietnamese operations may account for almost 50 percent of the profit by 2016-17, it said.
CCL Products exports instant coffee to 60 countries and counts Israel's Strauss Coffee B.V. andGermany's Deutsche Extrakt Kaffee among its biggest customers, Prasad said. The company can make 30,000 tons of instant coffee annually, he said.
Shares of CCL Products jumped as much as 3.8 percent to a record 110.80 rupees today, outperforming other coffee exporters. Tata Coffee Ltd. (TCO), the fourth-biggest shipper by volume last year, has declined 2.8 percent this year, while shares of Nestle India Ltd. (NEST), the sixth-largest exporter, have advanced 23 percent.
As the global growth in demand for instant coffee outpaces the overall market, CCL Products aims to boost exports by 25 percent to about 20,000 tons this year, Prasad said. "Our exports will climb as we have gone in to new markets such as America, and European demand is also picking up."
Branded Products
While Nestle and Kraft Foods together account for almost 75 percent of global instant coffee market, "there is a growing segment comprising private label instant coffees sold by super-markets, and it is this segment that companies such as CCL seeks to tap," IIFL said.
CCL Products is no longer content with selling to institutional buyers outside India, Prasad said. The company wants a slice of the domestic branded instant coffee market and has started retailing under the Continental brand in Andhra Pradesh, he said. The company is also supplying to private label manufacturers such as retail supermarkets, he said.
"Margins in the branded business are more than twice as high as in the institutional exports business," the IIFL report said. "Therefore, even a modest market share can be highly earnings accretive."
The company targets to earn as much as 700 million rupees this year from domestic sales and wants its Indian retail business to account for 20 percent of total revenue in three years from less than 10 percent now, Prasad said.
Consumption Growth
India's instant coffee market is estimated at 30 billion rupees with Nestle India and Hindustan Unilever Ltd. (HUVR) dominating with a combined branded market share of more than 65 percent, according to a Nirmal Bang Institutional Equities Research report on Aug. 27.
Consumption in India is seen expanding to 2.5 million bags of 60 kilograms each by 2020 from 1.92 million bags in 2013, Thomas Copple, an economist at the International Coffee Organization, said on Sept 5. Usage has grown about 3.6 percent annually in the last four years, he said.
The world coffee market is set for the largest shortage in nine years as drought cuts the crop inBrazil, Volcafe Ltd. estimates. Demand will exceed production by 8.8 million bags in the 12 months starting Oct. 1, the most since 2005-06, the Switzerland-based unit of commodities trader ED&F Man Holdings Ltd. said on Sept. 5.
"Domestic consumption has increased, and this gives us the advantage of entering the Indian market as a brand," Prasad said. "Maybe in another two to three years we will be pan-India, but not before we establish ourselves."